A fortress by name and nature
published: Sunday | April 9, 2006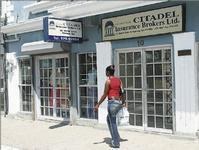 Western Bureau:
BY DEFINITION, the word 'Citadel' means a fortress - a strongly fortified place, created to offer protection from outside attacks.
While not a militaristic organisation, the Jamaica Citadel Insurance Brokers Limited, with main offices at 10 Market Street, in Montego Bay, has mastered the art of offering protection to its clients in critical areas such as accident, property, liability, marine/aviation, motor vehicle and employee benefits among other services.
In fact, the company, which was born out of the desire of its founder Balfour Barrington Baugh's bid to offer a first rate service to his clients, is today an embodiment of quality, offering clients benefits tailor-made to suit their specific needs.
My wife suggested the name and I thought it was appropriate, said Mr. Baugh, in reflecting on the decision to name the company Citadel. Our motto, a fortress of strength, also ties in beautifully with the name.
True to its philosophy of, providing clients with excellent service at competitive rates, while protecting them from the consequence of risk, the company has developed a cadre of seasoned insurance professionals to ensure that their clients get the best quality service at all times.
In a bid to remain relevant and dependable, Jamaica Citadel is constantly seeking out new ways to improve the quality of its offerings. To that end, new services such as employee benefits, which complement older services such as group health, life and pension, have been added over the years.
ONE-STOP OPERATION
In the language of the market, Jamaica Citadel is today a one stop insurance operation which covers services such as its special motor insurance packages for groups, hotel and airline employees, truckers association, credit unions, Seventh-day Adventist members, public sector employees among many other group of workers.
Based on its many and varied offerings, there is absolutely no question that Jamaica Citadel Insurance Brokers Limited, which has now established offices in Hanover, Westmoreland and St. Ann, is meeting its mandate to be a fortress in insurance protection.
Adrian Frater