Avia Ustanny, Outlook Writer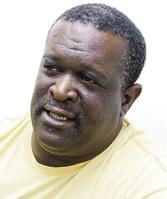 Stephen Francis
STEPHEN FRANCIS, 42-year-old coach and CEO of MVP club is savouring the taste of success. But, if you think this is about his athletes performance in Melbourne, Australia, at the recent Commonwealth Games, you could not be more wrong.
Instead, it is about the success of MVP (Maximising Velocity and Power) against all odds.
Francis is the coach of MVP athlete Asafa Powell who has been crowned the "world's fastest man".
An unknown in 2001, Powell has improved markedly moving from a personal best of 10.70 in 2001 to 9.77 (world record) in 2005. Francis is also the coach of Brigitte Foster-Hylton who broke the Commonwealth Games record in the 100m hurdles at the recent games.
Stephen Francis, who says he is not a vindictive man, states that he will not remind the Jamaica Amateur Athletics Association that they once refused to support Asafa, unless he changed his coach.
But, he notes, "Our programme which was starved of resources is the same one that everyone now seems to be proud of."
Stephen Francis, the son of training consultant Vincent Francis and Nurse Derman Francis, made enormous sacrifices along the way to the achievements of MVP.
He could have chosen an easier path. In the early '90s, after years as a high school coach at Wolmer's Boys' School where he also taught, Francis went to the University of Michigan to complete an MBA in accounting and management as a springboard into the corporate world. Coming back to Jamaica, he joined the international firm KPMG ­ Peat Marwick and did very well until he decided that his heart was really into athletics. He wanted to coach full-time.
In 2000, he recalls, "the issue of coaching adults to the level of success was not on the table.
HIGHER LEVEL
"Athletes came to UTech or to GC Foster College and then went to the United States. Jamaica was just an intermediate stop. Michael McDonald tried taking it to a higher level, but in one year he fell victim to problems."
Francis had started coaching when, while completing a first degree at the University of the West Indies in 1982, he offered coaching help to his brother Paul Francis with good results. After graduation, the Wolmer's Boys' School alumnus made his way to Marescaux Road in Kingston, where he energetically revived the school's track and field programme, pushing Wolmer's Boys' for the first time in a decade back among the contenders in the annual championships among secondary schools ­ Champs.
Stephen Francis was never an athlete himself, but he states that he loved sports and that he came by his expertise through reading. He first began at the Mico library and, as his income grew, began purchasing and bringing books into the island on the subject of coaching and improving athletic performance.
But, it was the fortuitous arrival of Brigitte Foster-Hylton in the island without a coach that changed his life.
As Foster-Hylton remembers it, "I asked Mr. Francis to coach me when I came home to Jamaica for the national championships and needed guidance. Someone recommended him and I was rather impressed with that first brief session.
"He felt the same way about me, too. He told me that he saw in me talent and that he could take me to the next level. I was very excited because I have never heard these words before. He believed I could be world class."
Stephen Francis resigned his job at Peat Marwick to coach full time. Foster-Hylton went to the CAC Championships and later the Commonwealth Games and did better than before. She moved back to Jamaica to work with her new coach.
But, during that first year, coach Francis recalls, no one was interested in sponsoring Foster-Hylton. His work at UTech was also voluntary.
"Yes," he reveals, " I did sell my car. I am not embarrassed to say that my credit rating was so bad that I could not get a credit card. The water, light, everything went. I had to make sure that Brigitte and the other athletes did not starve. I was eager to see what could be done with them."
In 2000, he created Caribbean Athletics, followed by MVP club with the idea of "professionalising the whole issue of coaching and to see if being in the home environment would make Jamaicans better athletes. I have always felt that Jamaican athletes were at a big disadvantage because they are not based at home. They leave (Jamaica) at 18 or 19 and become Americans who really are not interested in coming back home."
MVP was intended to offer its athlete management services, coaching as well as investment outlets. The initial response was all that Francis desired. In 2001 he recruited Asafa Powell whom he said nobody knew then.
But, 2001 was the worst year for Francis' MVP club. Brigitte Foster-Hylton became ill and sponsors withdrew.
By February, he was telling the female athlete that he might have to migrate. Her answer was "where are we going?" She was prepared to follow him anywhere. Overwhelmed by her loyalty, Stephen Francis decided to try again.
His analysis of their difficulties at that point, he recalls, resulted in the realisation that expectations, as well as performance, had to be managed too. The Club was saved when he was given a salaried position as coach at UTech. Since 2001, Francis has improved the times of several athletes. Between this time and 2004, he took 100m hurdler Foster from 13.26 to the national record of 12.45.
TESTIMONY
In less than a year, 100m relay gold medallist Sherone Simpson reduced her time from 11.37 to 11.01. The evidence of Asafa Powell's world beating times is also testimony.
Other athletes whose careers he has influenced include Michael Frater, Ainsley Waugh, Winston Smith, Kenneth Sylvester, Oral Thompson, Ryan James and Germaine Mason.
The coach boasts, "We love dealing with underdogs, we love proving people wrong. We love to get athletes who people think are not good. Most of our athletes have never won a race at Champs.
"Brigitte Foster-Hylton never won a race in the Champs hurdles. Asafa only got to one final.
"Sherone Simpson never won a race. Ainsley Waugh never won either. The only stars we really had were Germane Mason (Jamaica high jump record holder ­ 2.34m) and Michael Frater who came to us through the Wolmer's systems. We take the underdogs whom nobody else really want and turn them into world beaters."
It is not so much about talent as it is about a system, the coach states. "When Asafa was doing 10.3 no one was saying that he was talented. Now that he is doing 9.77 they will say that, but there is much more involved."
TECHNICAL SKILLS
He works on technical skills, physical conditioning and, if this does not bring about improvement, "we move to the mental," Stephen Francis says. "Sometimes we need to send the athlete to a sports psychiatrist so that he or she can visualise and achieve the calm ( state of mind ) needed to win a race."
According to Foster-Hylton who took home the gold in Commonwealth Games, her coach's "constant grasp for knowledge" is what impresses her most.
"He is a very bright man and this makes him a cut above the rest. He never gets complacent. He is also always looking for ways to improve. He does this by researching.
"I also like his aggression which brings out the best in me. He is tough, but, based on my personality, this what I need. I don't need to be spoon-fed. That will not get the best out of Brigitte."
"Reading is my passion, sport is my love," says coach Francis who today remains single. "In my 20s I was too much of a party person to marry. In my 30s I could not afford it. Now that I am in my 40s I travel too much."
The coach is away for four months out of every 12. The summer will find him attending international meets with his athletes.
"What Melbourne means," he says, "is that in the summer they will be doing wonderful things. It also shows you how much performing for Jamaica really means to these kids."