Dionne Rose, Staff Reporter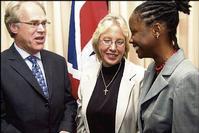 British High Commissioner to Jamaica, Jeremy Creswell (left), raps with Dr. Carolyn Gomes (centre), executive director for Jamicans For Justice (JFJ) and Tasha Rodney, JFJ legal officer, after the joint press conference hosted by the human rights group and the British High Commission at the Jamaica Pegasus Hotel on Wednesday. - IAN ALLEN/STAFF PHOTOGRAPHER
DR. CAROLYN Gomes, executive director of human rights watchdog Jamaicans For Justice (JFJ), says it will be taking the Patrick Genius case to the Privy Council, Jamaica's final appellate court.
Genius, 26, was shot and killed by the police in 1999. A coroner's jury had ruled in 2001 that the three policemen implicated in the shooting should be charged with murder.
However, Director of Public Prosecutions, Kent Pantry, Q.C., reviewed the depositions given at the coroner's inquest and ruled that there was insufficient evidence to charge the three policemen.
Genius' mother, Leonie Marshall, took the issue to the Supreme Court and the Court of Appeal, seeking an order for the DPP to reconsider his decision.
The Court of Appeal ruled in March this year that it was not appropriate for the court to make a declaration having regard to the state of the evidence and the constitutional powers transferred to the DPP.
On Wednesday, Dr. Gomes told reporters during a press conference at the Jamaica Pegasus Hotel in New Kingston that the human rights group would next month receive final leave from the Court of Appeal to take the case to the Privy Council.
RECORDS CERTIFIED
"We have already made contact with former solicitors in England and the record has been certified by the registrar and transmitted to England," she said.
In addition, Dr. Gomes said it would be exhausting every avenue available to them to access murder statistics from the Constabulary Communication Network (CCN).
She was responding to questions from journalists about the decision taken by CCN not to publish statistics and its refusal to respond to requests for information from JFJ.
"We have made Access to Information requests for this information and we are awaiting the runout of the 30-day deadline to see what further steps we take," she said.
"There is international precedence for the CCN; this was done in South Africa some years ago when their crime rate was out of control, they stopped issuing statistics," she disclosed.