By Elton Tucker, Assistant Sport Editor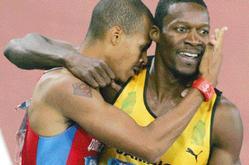 The Dominican Republic's Felix Sanchez hugs Jamaica's Danny McFarlane (right) after the men's 400 metres hurdles final at the Athens 2004 Olympic Games yesterday. Sanchez won gold in a time of 47.63 seconds ahead of Jamaica's McFarlane and France's Naman Keita. - Reuters
ATHENS, Greece:
DANNY MCFARLANE won Jamaica's third medal at the 2004 Athens Olympic Games last night when he bagged silver in the men's 400m hurdles final.
The 32-year-old St. Mary native maintained the impressive form he showed from the opening round of the event to clock 48.11 seconds behind the Dominican Republic's Felix Sanchez, who added Olympic gold to his two world championship titles.
Sanchez, who was born in the United States but runs for his parents' native country, finished in a season best 47.63.
McFarlane, despite having a ragged passage, proved very strong over the final hurdle to be a clear second at the end.
A ROUGH DAY IN HURDLING
"I give all praise to the Most High for this medal," the self-styled 'tough man' said after gaining his first Olympic individual medal.
"Today was one of my roughest days in hurdling but yet I stuck to my race plan. When America's James Carter went by me approaching the last hurdle I knew my strength coming home would make the difference and that is what happened."
McFarlane, a past student of Oracabessa High, took his Olympic medal tally to two. He was a member of the 4x400m relay team which won bronze in Sydney four years ago.
He is also the second Jamaican to win silver in the event at the Olympics. Win-throp Graham won silver in Barcelona 12 years ago.
Veronica Campbell, who won Jamaica's first two medals in Athens, collected her gold medal yesterday shortly after the men's 400m hurdles final. She was overcome by the occasion and cried tears of joy as the Jamaican flag was hoisted during the playing of the Jamaican National Anthem.