By Mark Dawes, Staff Reporter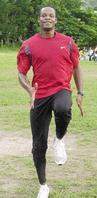 Asafa Powell in training on the grounds of UTech. - Ian Allen/Staff Photographer
AT 21, he is one of the fastest men in the world over 100 metres and is a strong prospect for a medal at the forthcoming Olympics, but most important to Asafa Powell is winning for God.
A former schoolboy athlete, Asafa competed at Boys' Championship in 2001 while representing Charlemount High School, St. Catherine. He did not have a glowing schoolboy record in athletics. In fact he is a late bloomer to the track world as he did not take the sport seriously. He caught the attention of Elaine Fraser, a teacher at his alma mater who told the Star last November that Asafa always showed glimpses of his immense talent but never cared much for it. She said "I don't think he realised that he had a gift and it was no big deal for him." She later became a major influence to help him recognise his potential and to pursue it.
He has been doing well in international meets, and had a big win earlier this season on the European Grand Prix circuit. But you would hardly know it. He is not braggadocious, or cocky as many successful athletes tend to be. He evinces a humility that is rare and almost unbelievable.
He traces these qualities in his life to his upbringing and his embrace of the Christian faith. Both his parents are pastors. His mother, the Rev. Cislyn Powell, is co-pastor with her husband, the Rev. William Powell ­ of a non-denominational church in Linstead.
He is one of six offspring ­ all boys, born to the couple. "Growing up and learning a lot of truths from The Bible I just make up my mind and resolved that I am staying in the church because I don't have anywhere else to go, there is no better alternative," he told The Gleaner.
He looks back at his young career and concludes that his embrace of Christianity has helped him in his
athletic pursuits.
Gleaner: How has your Christianity helped you to be a good athlete?
Powell: It has helped me a lot, to tell you the truth. It helps me to stay focused, to stay humble especially with the (media) hype out there. I have a verse I say each time I am going to run, 'I can do all things through Christ who gives me the strength.' He just gives me the strength and to tell you the truth it touches me a lot. Every time I say it, motivates me.
Asafa is the little brother of Jamaican athlete Donovan Powell, formerly of St. Jago High, whose events were the sprint double, and who in the early 1990s at Boys' Champs famously defeated Calabar track star Daniel England in the Class One 200 metres.
Asafa's faith has been tested many times in his young athletic career. Two of his brothers died; one was shot in 2002 and the other died from natural causes in 2003. Both deaths occurred during the week when he was to compete in national athletic trials. His faith, he told The Gleaner, sustained him in those dark moments.
Also, in September 2003, when he was controversially disqualified for a false start in the second round of the Men's 100-metre event at the World Championship in France. He, though hurt and disappointed, maintained his cool composure ­ a far cry from Jon Drummond of the United States who vehemently protested by lying down on the track, hindering the continuance of the race.
Gleaner: How did you manage to maintain your calm at the World Championship when it seemed the officials had done you an injustice and when you could have behaved like Jon Drummond?
Powell: That is the way I grew up. That is the way I was raised. A soft answer turneth away wrath ­. You notice he (Jon Drummond) got suspended. But I am still here. I just stay humble. I have a lot more World Championships in which to compete.
Asafa is a student at the University of Technology (UTech), in Kingston, where he is pursuing a degree in the Art and Science of Coaching. When he is through with that programme, he hopes to pursue a degree in engineering.
Following his disqualification at the World Championships, Asafa exacted revenge by beating all the finalists in three consecutive meets ­ during which time he recorded a personal best of 10.02 seconds. This is five-hundreths of a second faster than the time that won in the Men's 100-metre finals at the World Championship a few weeks earlier.
Under coach Stephen Francis, Asafa says his programme of preparation for the Summer Olympics this year is on track. He expects to be able to run between 9.80 seconds and 9.89 seconds by the time the Games open in Greece in August.
Gleaner: Have you ever been tempted to take performance-enhancing drugs?
Powell: Never. I said to people I am going to stay in Jamaica and beat the world naturally.
He is fully confident of doing this ­ for he explains 'Asafa' is an African name that means "rising to the occasion".
His success on the track has predictably placed him firmly on the radar of women, some of whom virtually throw themselves at him. "To tell you the truth they (women) come at me a lot. But I know how to deal with them. I know how to tell them 'no.' A lot of them want to know who is this Asafa Powell and because I drive a nice car ­ but I know how to deal with them." Furthermore, he said, he is not available as he has a steady love interest.
Gleaner: Is it hard to be a Christian and a top athlete at the same time?
Powell: Very hard, especially around my training partners. The influence, the stuff they say ­ everyone cursing badwords ­ the things they do. Everyone is saying Christianity is boring. I try to reflect Christianity as exciting so that they don't say it is boring.
Gleaner: You find Christianity to be exciting?
Powell: Yes, and I make it exciting.
He acknowledges that he is not usually the kind of person to engage in personal evangelism. But if he is in a setting where the subject turns to religion he will jump in and share his faith.
He acknowledges that he does not have much of social life as training and studies consume much of his time. He lives on the campus of the UTech but on Sundays he travels to his home church in Linstead, where he plays the bass guitar or drums as part of the worship service. "To tell you the truth it seems like is only me alone on the campus that goes to church. Every Sunday everybody is here same way."
He believes that churches should indeed use sports as an evangelistic tool. He believes that churches should devote more of their attention to winning people for Christ by involvement in athletics. "I see some churches trying to get involved in sports ­ though they concern themselves mostly with football. I think football is one of the hardest sports to influence men to become Christians. Those guys not really humble. Me never hear about any bad man in track. The track people will be more easily evangelised," he said.
Gleaner: How long do you intend to continue sprinting? Are you going to be like Merlene Ottey and run when you are in your 40s?
Powell: Until I start to decelerate. When I go back to 10.3 seconds I will stop running.
Gleaner: Describe yourself.
Powell: Asafa is just a humble person, very shy. He doesn't 'run down' anything, he is very quiet, he stays out of trouble, he is a Christian.