Peter McConnell honoured
published: Saturday | November 22, 2003
By Devon Evans, Gleaner Writer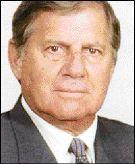 OCHO RIOS, St. Ann:
CHAIRMAN AND managing director of Worthy Park Estates Ltd., Peter McConnell, was recently honoured by the Jamaica Association of Sugar Technologist (JAST) for more than 40 years of outstanding service to the sugar industry.
McConnell, 63, was made a life member of the organisation during an award banquet at JAST's 66th annual conference at the Renaissance Jamaica Grande in Ocho Rios, recently .
"Peter McConnell has earned a special place in the annals of the Jamaican Sugar industry," said Robert Henriques, former JAST president in a citation.
He said that under Mr. McConnell's leadership, production levels at Worthy Park had increased and the entity had become one of Jamaica's most successful sugar estates.
Mr. McConnell told The Gleaner that although he had contributed four decades of service to the sugar industry, he was still inspired to continue to work in that sector. "I wouldn't be investing in sugar if I never thought it has a future," he said.
However, he said the Government should invest more in sugar.
Mr. McConnell joined Worthy Park Estate in 1963 as an assistant accountant and then he worked as scale clerk before he was promoted to an overseer.
In 1970, he was appointed farms manager and four years later, as managing director of the farm complex. He has been chairman since 1995.