Mullings to miss champs
Published: Wednesday | June 24, 2009
Raymond Graham, Gleaner Writer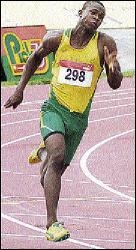 Mullings
THE top-ranked Jamaican man in the 400 metres for 2009 will be missing from this weekend's National Senior Championships at the National Stadium.
Mississippi State University student, Dwight Mullings, who clocked 44.98 seconds at the South East Conference meet in Gainsville, Florida, last month is having serious problems with his travel documents and will not be able to leave the United States in time for the June 26-28 championships.
The Jamaican passport of the former St Jago High sprinter, who finished fifth at this year's National Collegiate Athletic Association (NCAA) outdoor championships in the 400 metres in 45.48 seconds, has expired.
Mullings said earlier this week that there were some problems in getting a new passport as the old one was sent to Jamaica to be replaced.
"I was told that I had to go to Miami to get my book and the woman who spoke to me told me that it was going to take up to a week to have it back," Mullings said.
"I am fully rested after the NCAA championships and I am now ready to go to trials to win this event. This will be my first opportunity to represent the country at a big meet, and if I do not get the chance I will be very devastated," he said. Performances at the National Championships will be used to select the Jamaican squad for the August 15-23 IAAF World Athletic Championships in Berlin.
"After running two rounds of 4x400 metres relays along with my three rounds in the open 400 metres, I am now ready and raring to go because I am back to my best form," he concluded.
Mullings' 44.98 puts him among the world's top ten in the 400m. The next best Jamaican is Allodin Fothergill with 45.44. Olympic champion, American LaShawn Merritt is the fastest man over 400m this year with a best of 44.50.