Mad Madonna fans
Published: Tuesday | May 12, 2009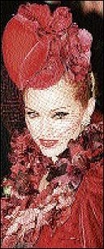 Madonna - File
Three British women have changed their names to Madonna lyrics.
Twins Lianne and Emma Dawson, 23, and their friend Gemma Mitchell - who call themselves 'Madonna's biggest fans' - opted for the monikers in homage to the pop star.
The women from Leeds are now legally known as 'Lianne Madonna Vogue On The Cover Of A Magazine McHale Dawson', 'Emma Madonna Confessions Of A Dance Floor McHale Dawson' and 'Gemma True Blue Strike A Pose Carroll McHale Dawson Me Me Mitchell'.
Emma said: "We absolutely love Madonna, we have been to see her as much as we can and we have got every single album and DVD she has ever made. We have never met her in person but if we did, we would collapse."
The three women paid The Legal Deed Service $15 each to change their names.
Chuck's protection
A Croatian bakery is warding off burglars with a life-size cut-out of Chuck Norris in its window.
The measure was introduced to the shop, in the town of Split, after a spate of burglaries.
A sign above the cut-out of the US action film star and martial arts expert reads: "This shop is under the protection of Chuck Norris."
It has reportedly had great effect and the bakery has since gone an entire month without incident.
Sales assistant Mirna Kovac said: "We just started it as a joke, but it really worked. Thieves haven't been anywhere near us for ages. People seem to respect him.
"Everyone around here has seen his films and he's a popular character, perhaps even among criminals, so they've decided to leave us alone."
The cut-out is so realistic, some shoppers think it is real.
She added: "We have had a few customers ask us whether they can get Chuck's autograph. They really believe he is sitting in our storeroom ready to pounce on burglars."
Coffin record
An Austrian carpenter has set a record for making coffins.
Herbert Weber has - according to the Guinness Book of World Records - built 707,335 coffins over 30 years, making him the most prolific casket builder in the world.
Weber, 50, said "It not only demands skilfulness but is also physically exhausting."
Weber will be honoured with a certificate celebrating his achievement at the International Funeral Home and Cemetery Trade Fair in Salzburg.
Weber started making coffins in May 1978 at Moser Holzindustrie, a wood processing company in the town of Bischofshofen.
Porky's revenge
The only known pig in Afghanistan has been quarantined because of fears about swine flu.
The pig is usually kept in the Kabul zoo alongside deer and goats, but is presently housed in a private pen as visitors have complained it will give them the disease known commonly as swine flu.
Aziz Gul Saqib, director of Kabul Zoo said: "We built it a room because of swine influenza. We've done this because people are worried about getting the flu."
Although 26 people have died of the disease in Mexico - the epicentre of the disease - and more than 1,000 people are infected worldwide, with no pig farms in Afghanistan and no direct civilian flights between Kabul and Mexico the Afghani pig is possibly the least likely pig in the world to contract he disease.
When told of this, Gul Saqib replied: "We understand that, but most people don't have enough knowledge. When they see the pig in the cage they get worried and think that they could get ill."