Young, gifted and hype! - Youth View Awards: the red carpet to glory
Published: Friday | March 27, 2009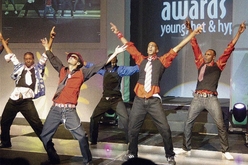 Youth View to di worl: The dynamic Shady Squad represented at the young, hot and hype Youth View Awards on Saturday, February 2, 2008. - Peta-Gaye Clachar/Staff Photographer
Two months ago, the Youth View Awards (YVA), sponsored by The Gleaner's Youthlink, captured the imagination of young artistes across the length and breadth of Jamaica.Many may never get to the Grammy's or other international stages, but Youth View takes them a significant step closer to global artistic glory.
In February, each year, Youth View will roll out the red carpet for artistes who have made significant strides and national impact over the last 12 months.
Award winners
In 2009, presenters of the first award, Miss Jamaica Universe 2008, April Jackson and Chino, who suffered a small misstep, invited the winner for the Best Local Video, Elephant Man. While there were a few blemishes in the form of no-shows, the event was spotless in terms of style, elegance and sheer class. Next year, Youth View only promises to be better.
Ding Dong, Shelly Belly, Kieva and Mad Michelle paid tribute to recently deceased dancer, Ice with a high-energy performance that electrified the audience.
Big Ship's latest music prodigy, Laden, showed why he is fast becoming one of dancehall's big names.
Upcoming gospel rap group S.O.P also got its time to shine. A performance by Etana was well received and Shady Squad pulled all the right moves in a dance routine that propelled everyone into a 25-minute intermission.
But Youth View is not just about performances. Fashion is also one of the high points surrounding this mega event.
Being about the 'young, hot and hype', artistes and youths came out looking ready to rock the red carpet after 6 p.m.
Male artistes like DJ Nicholas and Voicemail looked elegant in full suits, while others went for a more youthful look in vests. Women such as Tifa, as well as sisters Tessanne Chin and Tami Chynn, looked elegant in black dresses, while dancer Keiva went all out in a gold gown.
Loraine Seville, aka Raine Seville, stood out in a colourful blue dress, definitely carring off a Rick B designer dress. Quite a glam chick, she stepped out in style with the help of fashionable white ankle boots.
Michelle 'D'Angel' Downer walked down the red carpet at the top of her fashion game, her strapless piece did not disappoint. And, for that extra oomph, she went for the colour purple, wearing purple stilettos with matching purse.
Dancehall sensation Grace Hamilton, who sings under the moniker Spice, has been the centre of attention in recent weeks. Spice copped the award for Female DJ of the Year at the Excellence in Music and Entertianment Awards, following that with three others at the YVAs, which included Young Hot and Hype, Favourite Local Female Artiste of the Year and Favourite Dancehall Female Artiste of the Year.
"I want to thank God, my very supportive mother and my son. Every time I look at him, I am motivated to work harder. Also to my husband, Nicholas Lall, who is my backbone, to the fans, nothing would be possible without them."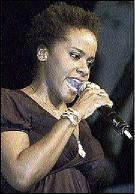 Etana
YVA FACT FILE
Here are categories
and winners:
Best local/International Act - Shaggy
Female Fashion Icon - Tami Chynn
Male Fashion Icon
- Beenie Man
Favourite Female Dancer
- Keiva the Diva
Favourite Male Dancer
- Ding Dong
Best Entertainment Show
- Intense (TVJ)
Favourite Female
Dancehall Artiste - Spice
Favourite Male Dancehall Artiste - Vybz Kartel
Young, Hot and Hype Female Artiste - Spice
Young, Hot and Hype Male Artiste - Blak Ryno
Celebrity Role Model - Asafa Powell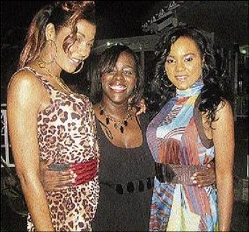 An Elegant Affair's Karen Clarke (centre) simply glows in black. She is flanked by Youth View Awards 2008 Style princess D'Angel (left) and friend Tunya at the launch of the 2009 Youth View Awards held at the Devonshire, Devon House, on Friday, January 2. - Contributed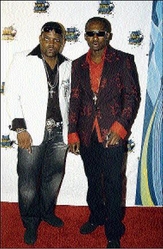 Artistes like Demarco (left) and Busy Signal use the red carpet to show off their awards outfits at the Youth View Awards last year. - Peta-Gaye Clachar/Staff Photographer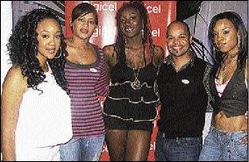 Maurice Bryan, Digicel sponsorship and promotions manager, just may have his hands full as he cozies up with Natalie Storm (right) and Youth View Awards nominees (from left) dancehall artiste Tifa, Tracy-Ann Ghelwell and Dancer Mystic. - Contributed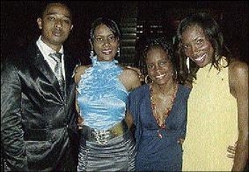 DJ Nicholas and his heavenly party of three.