Howard Campbell, Gleaner Writer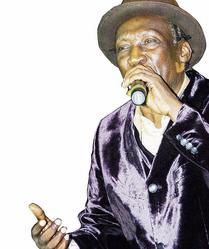 Alton Ellis
FOR 25 weeks in 2004, I'm Still in Love by deejay Sean Paul and singer Sasha sat in the Billboard Hot 100 pop charts. The song peaked at number 14 and was another hit from Sean Paul's Dutty Rock album, but it also gave the man who did the original version his first 'taste' of American success.
That man, singer Alton Ellis, died Friday at the Hammersmith Hospital in London, 10 months after he was diagnosed with lymphatic cancer. He was 70 years old.
Ellis was at the peak of his powers in 1967 when he cut I'm Still in Love for producer Clement 'Coxsone' Dodd at Studio One. It was one of many hits he recorded during that decade, which earned him the undisputed title of 'Godfather of Rocksteady'.
Ska, rocksteady star
Unlike some of his ska and rocksteady contemporaries such as Jimmy Cliff and Ken Boothe, Ellis never made overseas charts during his heyday. But he was a major influence on the next generation of Jamaican pop singers including Dennis Brown, Freddie McGregor and Sugar Minott.
"His voice was as smooth as silk, he always worked within his range so you never heard him cracking. He wasn't classically trained but had a great sense of timing," said musicologist Bunny Goodison, who knew Ellis for over 50 years.
That timing was fine-tuned at talent shows like the Vere Johns Opportunity Hour which Ellis first entered as a dancer in the late 1950s.In 1959 alongside Trench Town colleague Eddie Perkins, he hit the charts for the first time with the ballad, Muriel, for Dodd.
Ellis split with Dodd in the early 1960s but went on to form a fruitful partnership with producer Arthur 'Duke' Reid's Treasure Isle studio. Some of the records he made for Reid's label include Dancecrasher, Cry Tough, Ain't That Loving You and Girl I've Got a Date which he consistently tagged as the first rocksteady song.
He never reaped financial rewards from his chart success. Ellis said he was living in a Trench Town slum in 1969 when he went to Canada where he lived for nearly three years, before moving permanently to Britain.
"It was pure hit tune an' Alton live inna a one room inna Trench Town same way," an angry Ellis told The Gleaner in November, 2006. "Mi all start fi think 'bout pick pocket like dem bwoy pon the bridge 'cause dem have pretty bicycle an' look clean every day."
He clashed with Dodd over royalties from his songs including I'm Still in Love. They were at odds over money from the Sean Paul/Sasha song at the time of the producer's death from a heart attack in 2004.
Ellis made his reputation as a balladeer through songs like Girl I've Got a Date and I'm Just a Guy. Yet, he touched social issues by chastising rowdy rudeboys on Dancecrasher and tackled inner-city poverty in the Lloyd Matador Daley-produced Lord Deliver Us.
It made him, Goodison said, a 'rounded performer'.
"He never had formal training but he was very articulate. Alton Ellis was really a student of the streets," Goodison said.