Taniesha Burke, Contributor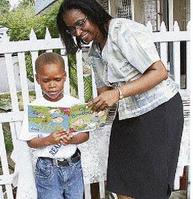 Lisa-Gaye Anderson, chairperson for the Junior Optimist Octogan International, Caribbean District, is enthused by the reading abillity of six-year old Melvinto Campbell, a grade-one student of Independence City Primary. - Photo by Anthony Minott
When was the last time you read to your child? Is reading an important activity in your home? What kind of memories do you want your child to have of moments spent with you?
Many of us were raised with parents and loved ones reading to us as a leisure activity. This simple activity has had tremendous impact on our intelligence, listening skills and school grades, not to mention wonderful memories which we still hold dear to our hearts.
On the decline
In spite of the wonderful benefits of reading to our children, this powerful activity seems to be on the decline in our homes. The working life of parents has become even more hectic and, as such, we are no longer reading to our children as often as we should.
Watching television, playing video and computer games and tinkering with cellphones are the new-found activities that are quickly replacing this important activity which, if not carefully monitored and limited, can have detrimental effects on our children.
We, as parents and caregivers, need to get back to reading to our children on a regular basis, as the benefits for both the child and parents are immeasurable.
Did you know that reading:
Is a wonderful bonding experience which creates memories for a lifetime? This bonding experience also assists in building a strong relationship and communication system between parents and children.
Allows parents to transfer their values through stories? This is especially important during the early years when the brain is developing faster and is like a sponge that willingly soaks up information with great enthusiasm.
Shows our children that we love and appreciate them?
Nurtures their curiosity of the world and gives them the drive to explore the world around them?
Teaches them to be quiet for a few moments?
Expands a child's imagination and creativity?
Allows a child to become familiar with words which aid in the mastery of language?
Develops their listening ability, increases their attention span and develops their ability to concentrate at length? This in itself allows children to increase their school grades, as they are more focused and pay greater attention to what is being taught.
Following the plot of a story and predicting the outcome develops their problem solving and critical thinking skills.
Teaches children how they can handle various emotions when they experience them? Stories provide examples of characters' emotions and how they handle them in various situations.
Helps the development of empathy in children as they can imagine the emotions felt by the characters in the story? Children with empathy are more likely to treat others with love and care.
Teaches lessons that otherwise could not be learnt through regular conversations?
Teaches appropriate behaviours?
Children who are read to are also more likely to become avid readers, and are more likely to transfer this love of reading to their own children. It is fun and does not take a lot of time. Parents are encouraged to take at least 15 minutes per day to read to their children.
The effects of reading to our children are overwhelming. It develops life skills that will be used for a lifetime. The challenge for parents is to make the time to read to their children every day.
Sources:
http://school.familyeducation. com/early-learning/ reading/40729.html
http://www.drpaul.com/ library/READING.html
http://www.essortment.com/all/ importancebenef_occ.htm
Taniesha Burke M.Sc. Applied Psychology, is the CEO of Preston Childcare Services. She can be reached for comments and questions at www.prestonchildcare.com or via email at taniesha.burke @prestonchildcare.com