Adrian Frater, News Editor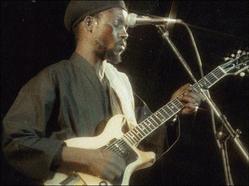 Peter Tosh
WESTERN BUREAU:
After an absence of three years, the annual Tribute to Peter Tosh show returns to the reggae icon's hometown in Belmont, Westmoreland on October 17, 2008.
Shortly after Tosh was murdered on September 11, 1987, promoter Worrell King decided to create a musical tribute in his honour.
King, best known for his annual one-night show Western Consciousness, got the blessing of Tosh's family, which signalled the birth of Tribute to Peter Tosh in 1990.
For the first 14 years, the event was staged at KD's Keg in Belmont, Westmoreland, adjacent to the house where Tosh grew up and where his mother, Mrs Alvira Coke, still lives.
Bigger venue
However, the show, which is staged free of cost, outgrew the KD's Keg venue and King reluctantly moved to the much bigger Independence Park in Savanna-la-Mar.
"The event lost some of its character when we moved to Savanna-la-Mar, but we had no choice because the venue at Belmont was not big enough to host the number of patrons we were attracting," said King.
"We really missed the fact that in moving the event, patrons no longer had the opportunity to visit Tosh's mausoleum as well as his room at his mother's house, where some of his old possessions are still intact, because that was something the tourists enjoyed."
With the Westmoreland Parish Council not granting permission for the use of Independence Park this year, King was quite determined that the event must go ahead and decided to take the show back to Belmont.
Unlike in the past, the event will not be staged at KD's Keg but at the new theme park, which is being created close to Tosh's mausoleum.
"Maybe not getting Independence Park is a blessing in disguise, because it gives us an opportunity to get back the original concept behind Tribute to Peter Tosh, said King.
Hit songs
"This time the event will be staged on the grounds where Tosh grew up as a child and later spent many hours writing hit songs."
Tosh's mother, who is approaching her 100th birthday, has kindly consented to be patron of the event once again and is looking forward to welcoming patrons into her home again. Tosh's eight children are also expected to be there as part of the celebration of his life and works.
In a bid to reflect Tosh's musical philosophy, King is currently assembling a list of top-flight roots singers for the event. Among the acts already confirmed are Bush Man, Tosh's son Andrew, Lutan Fyah, Natural Black, Bunny Wailers' daughter Sensi Love, Aqu Barrett - son of famed Wailers drummer Carlton Barrett and Edi Fitzroy, who has never missed a Tribute to Peter Tosh.
An added attraction this year will be live video footage featuring Tosh in concert. This will be shown on a big screen prior to the show's 8:00 p.m. start.
"Over the years, parents have been taking their children to the event, so this year we will be putting in some special attraction for the children," said King.
"We will have bounce-a-bout and other attractions. It is going to be a full family affair."