Daraine Luton, Staff Reporter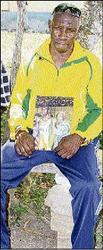 Pablo McNeil, who nurtured Usain Bolt, sits with a photograph of the Olympic 100m winner on Saturday. - Photo by Richard Morais
PABLO MCNEIL, the man who moulded a young and ragged Usain Bolt, has since been bombarded with coaching requests from youngsters and parents alike.
It was McNeil who set the charge on Bolt's explosive potential during his days at William Knibb Memorial High School in Trelawny.
McNeil was always aware of Bolt's sprint prowess and worked overtime to ensure it would come to fruition.
"He was running some phenomenal times before he was even 15. I have never shown him my stopwatch, lest it gets to his head," says McNeil, who dubbed the Sherwood Content youngster, 'the bolt of lightning'.
That bolt struck in Beijing, China, on Saturday when the young man stormed to a world record 9.69 seconds to win Jamaica's first Olympic gold in the 100 metres.
"Usain Bolt is a cut above the rest," McNeil told The Gleaner.
Suffered a stroke
The former Olympian, who suffered a stroke in December, did not watch the race on television. His eyes are too bad to stare at a television screen but, even before the race, McNeil knew exactly how Bolt would run.
"He is going to break 9.7 seconds ... and if he avoids the nonsense of doing the antics during the race, he will go very fast," McNeil said prior to the race.
And he was right.
"If him tek dis thing serious, can you imagine the times that he can establish?" he added.
Few persons are as aware of Bolt's potential as McNeil. He is documenting it and plans to write a book soon, The Bolt of Lightning and Me.
When McNeil assumed the job of coaching and mentoring Bolt, the lad, despite being a master rocket, was easily distracted.
"It was not easy. There were lot of obstacles that we had to overcome together," McNeil said.
He told The Gleaner there were occasions when he had to leave the school grounds and retrieve him in Falmouth where he had taken a taxi to go flirt with girls.
Tough one
"On those occasions, I would take him back to school and he would practise. He was a tough one, but once you understand him, he is easy to work with," McNeil said.
Bolt, McNeil added, "always give 101 per cent without flinching".
He, however, notes that there were times when he had to hold Bolt with a firm fist because the tall energetic man-child wanted to have his own way.
One of those occasions came in 2002 at the CARIFTA trial at G.C. Foster College. Bolt, who was due to run the the final of the 200m, stole away in the back of a van and the events which followed nearly spoilt the relationship between the young star's family and McNeil.
A policeman who had seen Bolt leave the college grounds held unto him on his return and then sent for McNeil. By the time the coach left St Catherine and got back to Trelawny, there was a stench in the air.
'Mr McNeil had set police on Usain', was the claim at school and in the community.
Bustamante's closet
McNeil also recalled taking Bolt to Kingston in 2001 for Boys Championships and the youngster hiding in 'Bustamante's closet'.
While McNeil's charges were staying at the house of the late prime minister, Sir Alexander Bustamante, the coach discovered Bolt sprinting away from the house.
"He has got so much energy and I am very happy that I had the opportunity to contribute to the development of the youngster," McNeil said.
McNeil lost Bolt when, at 16, the youngster was uprooted from Sherwood Content and planted in Kingston.
Former Prime Minister P.J. Patterson played a defining role in Bolt's move to Kingston and ultimate success.
"When he won the 200m at the World Junior Championships, I decided that he needed very special attention," Patterson told The Gleaner. "Working with the JAAA (Jamaica Amateur Athletics Association) and the (High Performance) Centre at University of Technology, I made sure that
arrangements were made for his transfer from his home in Trelawny to Kingston. We organised a house for himself and (Jermaine) Gonzales as we recognised from them that this was outstanding talent."
The transplant of Bolt from Sherwood Content, Trelawny, to Kingston is now paying dividends. This after many Jamaicans criticised the move when Bolt subsequently got injured and looked as if his childhood promise would come to naught.
"He almost lost himself ... he also lost his life," McNeil said, making reference to how Bolt began living a carefree life of partying. He was also involved in a late night motor-vehicle accident but escaped, unhurt.
"I just think that coach McNeil does not get as much credit as he deserves for making Usain into what he is today," Valerie Lindo, a resident of Sherwood Content, said.
Meanwhile, McNeil wants Bolt to be honoured in a special way.
"He is deserving of the Order of Jamaica. He has taken Jamaica on his back and demolished the whole world. That is the respect to be given to the greatest sprinter of all time," McNeil says of his young protégé.
Bolt will be awarded the Order of Distinction, Officer Class, on National Heroes Day later this year. The Order of Jamaica is the third highest honour, a rank above the Order of Distinction.
daraine.luton@gleanerjm.com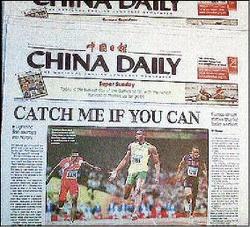 Usain Bolt captures the headlines in the China Daily newspaper after his world-record run in Beijing on Saturday. - contributed