Howard Campbell, Gleaner Writer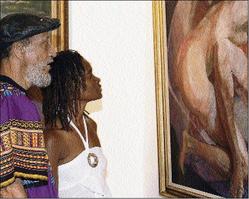 Christopher Gonzalez and Judith Blake looking at a controversial piece, 'Triangle', at the official opening of Gallery Barrington in September, 2006. - Colin Hamilton/Freelance Photographer
ARTIST CHRISTOPHER Gonzalez was living in Atlanta, Georgia in 1981 when he heard the Jamaica government was planning to build a statue in tribute to reggae superstar Bob Marley, who died in May that year.
"I wrote to them and told them that I would be honoured to do it because personally I loved the man's music before he even got big," Gonzalez told the Inter Press Service in October, 2002.
His bid was successful, but the Kingston-born Gonzalez would get more than he bargained for.
One of Jamaica's outstanding sculptors, Gonzalez died Saturday evening, age 65, at the Cornwall Regional Hospital in St James.
Widely criticised
For all his accomplishments, he is synonymous with his widely criticised bronze Marley statue. The figure, with tree-like roots, did not get the approval of the government nor Marley's family and was never officially unveiled.
David Boxer, curator at the National Gallery of Jamaica, said Gonzalez never got over that slight.
"It's something he never got out of his craw; the rejection wounded him," Boxer said.
On Boxer's recommendation, Gonzalez' Marley piece was moved to the National Gallery where it stood for nearly 20 years before it was moved in October 2002 to the Island Village theme museum in Ocho Rios.
The government commissioned another respected Jamaican sculptor, Alvin Marriott, to do a second Marley statue. That was unveiled in 1984.
Progress check
Boxer, acting on behalf of the Office of the Prime Minister, said he visited Gonzalez in Atlanta in 1982 to check on the statue's progress. Even then, he knew there would be some issues with the committee guiding the project, which included then prime minister Edward Seaga, Marley's mother Cedella Booker and his widow, Rita.
"I expressed to him a bit of concern about his concept, I hoped they could appreciate it," Boxer recalled. "It was a pleasing work as far as I was concerned."
When the statue arrived in Jamaica, it caused a furore. Rita Marley and Bunny Wailer, who co-founded the Wailers group with Bob Marley, were angered; they said it bore no resemblance to the singer, while it was ridiculed by citizens who saw it.
Many admirers
In his interview with the Inter Press Service, Gonzalez said he was angry that the statue was 'gathering dust' at the National Gallery.
"Everytime I went there and saw it I got pissed off, I raised hell with the officials about the disrespect they showed the piece," he said.
A graduate of the Jamaica School of Art, Christopher Gonzalez announced himself as an artist of note in the mid-1960s when he was commissioned to do the Coat of Arms and a bust of National Hero George William Gordon. Some of his later work would earn him many admirers, but shocked others. Among these was a statue of Christ with protruding phallus; it was rejected by the local Roman Catholic Church.
Christopher Gonzalez returned to Jamaica in 1984. He told the Inter Press Service that he wanted to take his Marley statue on a tour.
"I'd like to embark on a money-making thing for it because I never made anything from it. It was a true labour of love," he said.