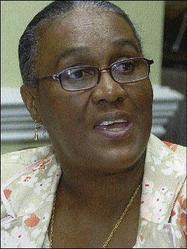 Children's Advocate Mary Clarke. - Ricardo Makyn/Staff Photographer
Just days before the third Jamaica Diaspora Conference kicks off on June 16, Children's Advocate Mary Clarke is pleading with parents of 'barrel children' to take extra care in preventing them from falling victim to depression and suicide.
A university lecturer last Friday revealed that Jamaican children whose parents have migrated are more susceptible to depression and suicide.
University of the West Indies lecturer Dr Audrey Pottinger was comparing children in Trinidad and Tobago and Jamaica, during a presentation at the Medical Association of Jamaica's annual symposium at the Jamaica Pegasus Hotel in New Kingston. In her presentation, she noted that, while studies have found that children in Trinidad and Jamaica were both susceptible to depression as a result of their parents migrating, Jamaican children seemed to be affected more by the separation.
Yesterday, the Children's Advo-cate warned migrating parents that "barrels cannot make up for not having a mother".
She said she has read several research findings on the impact of migration on children.
Suicidal tendencies
"They really go through a lot. The trauma of separation, the trauma of being left with relatives they hardly know, the trauma of being shifted from one relative to the other, can affect their development," Clarke said.
"It is really traumatic that later on in life a stranger appears to declare that I am your mother or father."
She asked parents to think twice before migrating and leaving their children behind and said that if they feel they have to leave the island, they should make arrangements for the most appropriate people to supervise their offspring.
"Sometimes grandma is too old and doesn't understand them (the children)," she said.
During her presentation on Friday Pottinger said, in addition to depression, Jamaican children also exhibited suicidal tendencies and performed poorly in school. This was so though many of them were regularly in contact with their parents.
Both groups, however, commonly reported feelings of loneliness, anger, sadness, anxiety, abandon-ment and fears of rejection.
"We also found that child shifting was a problem (changing guardians after the parents left) and what we found was that child shifting tends to be more common in the Jamaican example. The children who experienced child shifting also had significantly low self esteem," she said.
Sexual abuse
Three out of every 10 Jamaican households have children whose parents have migrated compared to only one in every 10 households in Trinidad.
Pottinger added that "barrel children" were often at risk of sexual abuse and prostitution.
"Particularly, these were found in children with surrogate arrange-ments that were inadequate or inappropriate," she added.
Pottinger said the impact of migratory separation seems to be more pervasive than other forms of separation or loss and seemed to affect children more than did divorce or death of a parent.
She noted that while migration benefited the economy and allowed the parents to provide financially better for their children, there were mental heath and social consequences of migration that ought to be taken seriously.
She said the public needs to be sensitised by mental health professionals about the implications of migration and more needs to be done to prepare children for the migratory process. She added that migratory loss should also be taken as seriously as the loss of parent by death or divorce.
"Migration should be considered as a major loss with grief response similar to that of death and divorce. Therefore, social institutions, such as school and church communities, should be offering support services for these children, similar to when a child has had a parent die or parents divorced."
Tips for parents dealing with 'barrel children'
1. Think twice about leaving and, if you have to go, make arrangements for proper supervision of your children.
2. Maintain contact. Call, speak to the children as often as you can afford to.
3. As soon as you can, seek reunification.
4. Prepare the child for reunification.
DIASPORA FOCUS
Ahead of the Third Biennial Jamaican Diaspora Conference at the Jamaica Conference Centre, downtown Kingston, from June 16-17, The Gleaner zooms in on some of the issues expected to be raised at the forum.