Robert Lalah and Latoya Grindley, Gleaner Writers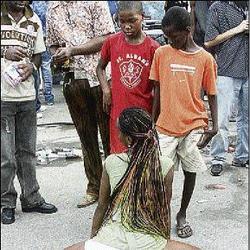 A woman 'wines' for boys at Passa Passa, an X-rated public street dance along Spanish Town Road in Kingston. Children are often seen at entertainment events which expose them to adult material. - File
It is a few minutes shy of 5 a.m. and there's a street dance taking place on the outskirts of Spanish Town, St Catherine. It's a community called Casha Valley on March Pen Road. The dance has been going on for about five or six hours now and as the sun begins to rise, attendance is dwindling.
Among the few who remain, though, are more than a dozen girls who all seem to be under 10 years.
The adults, many of whom are performing sexually sug-gestive dance moves, are for the most part ignoring the children.
On a makeshift stage, under a withering mango tree, appears a man holding a microphone. He explains that a competition is about to begin.
"All a di gyal dem weh know dem can move dem body, a your time now!" he says, drawing loud whoops from the crowd.
The music starts again. It's a song titled Back it Up by popular dancehall artiste Beenie Man. The contestants appear onstage; three women in their mid-20s and four young girls. Only one of the girls is wearing shoes.
The man encourages the crowd to cheer the girls on. One girl balances on her head, legs shooting into the air.
This kind of competition, said a man in the crowd who called himself Shabba, happens there all the time.
"Weh yuh a talk 'bout man? Dem come yah wid dem madda. A ghetto dis, you know. Is just di ghetto culture. Nothing wrong wid it," he said before walking off to continue cheering the dancers on.
Lorain Henry, mother of five, noneof whom is older than 13, chuckled.
"Nothing nuh wrong wid dancehall music. My pickney dem know di whole a di song dem. Dem go a dance and nothing nuh do dem. Is just because is poor people music why dem a try fight it. Nothing nuh wrong wid it!" she said emphatically.
Lorain was sitting on a wooden bench in Denham Town, west Kingston, with three other women. One of them was holding a baby in her arms. They all nodded in approval.
"My big daughter go dance and know di song dem from she start go school," Lorain said. "In fact, mek mi call her. Shaneke, come here!" the woman shouted. Soon, a slim girl appeared. Her hair was ruffled and she seemed sleepy.
"Shaneke, sing one song mek mi hear. Which song a yuh favourite?" her mother asked. The girl said it was a song called Wine Pon Di Edge. Her face lit up as she sang and gyrated. The women sitting on the bench laughed and cheered.
Several factors



( L - R ) NICHOLSON, HOPE
Dr Donna Hope, lecturer in reggae studies at the Institute of Caribbean Studies, a branch of the University of the West Indies, Mona, suggested that children may not fully understand what they are saying.
The lecturer suggested that children remember the lyrics because of easy-to-learn hooks, regurgitating them in the same way they do the alphabet.
Hope pointed out that there has been no formal research done to assess the impact of dancehall on children, but social factors perhaps play a greater role in shaping values.
"There are other very important factors that have to be considered. For instance, their home, the type of role models they have, as well as parenting style," she said.
Hilary Nicholson of Women's Media Watch takes a more hard-line approach.
"Most of these songs are messages which relate to male-female relationships and are not messages of respect, care and consideration," she said. "They don't promote values. Instead, what is being pushed is aggressive sexuality. And most times, it's not them (the artistes) singing about what they are doing, but it seems like they are telling you what to do and how to treat women," Nicholson said.
She argued that some dancehall songs normalise violent sexual behaviour, which not only affects women, but men too.
"There are some women who believe that when a man is not applying force, he is not doing something properly. It is like they have come to believe that sex should be something forceful, involving even the bruising of genitals," said Nicholson.
Assassin's soft side
Jeffrey Campbell, a deejay who goes by the moniker Assassin, agreed that parents should bear the brunt of blame for children's exposure to inappropriate material.
"It is not the artistes' duty to monitor who hears what or how. The fact is, parents have to be more responsible and censor what their children see or hear, " he said.
The father of an infant himself, the deejay said: "I certainly charge myself with the responsibility of monitoring my daughter."
---
What's your view?
Email your thoughts on whether dancehall has a critical impact on children. Send feedback to letters@gleanerjm.com.