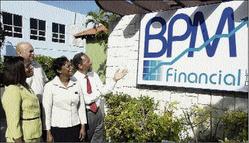 BPM Financial staff pose next to the company's new sign signalling its rebranding. From left are Maureen Clarke, administrative/property manager, Michael Omphroy, IT manager, Peta-Rose Hall, managing director, and John Hall, director. The company, formerly known as Barita Portfolio Management Limited, was rebranded on April 30. - Contributed
Barita Portfolio Management has rebranded as BPM Financial, 15 years after the company hit the market.BPM is part of the Rita Humphries Lewin-controlled Barita group of companies, a 30-year-old operation that is trumpeted as the oldest stockbroking outfit in Jamaica.
The company is privately owned.
Same structure
BPM remains involved in securities dealing, pension fund administration and investment advice and management, to more than 1,000 clients that include individuals, corporations and pension funds.
The company has $1.8 billion under management.
Its management structure remains the same under the rebranding on April 30, with Peta-Rose Hall and John Hall in charge.