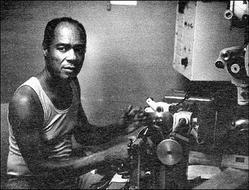 King Tubby - file
Claim to fame: Master engineer regarded as the father of dub. Responsible for introducing special effects such as reverb and echo, bringing a new dimension to reggae in the 1970s.
Most famous work: King Tubby Meets the Rockers Uptown which he recorded with fellow dub master Augustus Pablo.
His dub productions were the B-sides for just about every hit record made during the 1970s.
Also known as the Dub Organiser.
Used The Aggrovators as his house band. The unit included bass player Robbie Shakespeare and drummer Carlton 'Santa' Davis.
The Firehouse Crew, which went on to record and tour with Luciano and Sizzla, started out at Tubby's Waterhouse studio.
King Tubby produced singer Anthony Red Rose's first two hit songs: Tempo and Under Mi Fat Ting.
Born Osbourne Ruddock, King Tubby was murdered at his Duhaney Park home in February 1989. He was 48 years old.