Krista Henry, Staff Reporter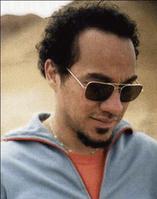 Jarvis Church - Contributed
The musical journey of Jarvis Church has carried him across continents as a singer, songwriter and producer. Lead member of the group Philosopher's King, a producer for Nelly Furtado and on the verge of releasing his second solo album, The Long Way Home, Church has accomplished a successful musical plateful.
Born in Jamaica, Church grew up in Toronto, Canada, but still managed to keep his Jamaican roots with frequent visits to the island. Jarvis quickly called Toronto his second home, as the multicultural city encouraged him to embrace his Jamaican heritage. While in Jamaica, Church developed on a strong love for music from a much younger age. He told The Sunday Gleaner, "I've always loved performing. I loved being onstage from I was a kid. I was always singing and formed my first band when I was 14."
High school friends
It was from a group of high school friends that the Philosopher's King was formed. The band signed a record deal with Sony Music Canada in 1993 and immediately began touring North America, South America and Asia on the strength of their top 10 hit Charms from their debut self-titled record, which was certified gold. A soul pop and rock band, the group has garned much attention, especially in Canada, as a multiple platinum award-winning band.
Yet, Jarvis was never completely satisfied, as he eventually moved on to form Track and Field Productions with guitarist Brian West. Their first work as a production team was developing an unsigned female singer Jarvis discovered at a local talent show called Honey Jam in 1998. Her name was Nelly Furtado. Furtado soon became an International superstar and the accolades continued when Church played an instrumental road in producing Nelly Furtado's first two albums, which garnered him a Grammy nomination for best producer.
However, the success as a group member and producer wasn't enough for the ambitious Church, who wanted to explore his reggae roots. "It just sorta felt right branching out on my own. I got the musical inspiration and I wanted an album that was rooted in Jamaica, yet still had that international vibe," he told The Sunday Gleaner.
Variety of musical genres
Church released his debut album, Shake It Off, in 2002, bringing together a variety of music genres, all seamlessly linked by the rhythmic footprint of reggae music. "Releasing my debut was a great feeling to express myself by myself without being in the context of a band. It was only released in Canada, but was received well," he said.
More than five years later, Jarvis is ready for the release of his second full reggae album, The Long Way Home. The first single, Just Like That, is already gaining airplay with its predominantly dancehall vibe. According to Church, he is making sure all the notes are perfect on his second album before its release, but he is looking forward to premiering the album in Jamaica.
He said "this is a more dancehall/reggae rooted album; there is more Jamaica in this album".
Church still continues with his multiple music roles as leader of Philosopher's King, a producer for talents who interest him and as a solo performer. "I just want to continue making music and performing," Church said.