Richard Deane, Business Reporter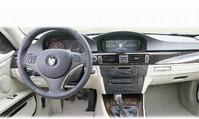 The interior of the four-seater 2007 BMW 335i coupé, showing the dashboard with the navigational system. The Mona Geo-Informatics Institute has developed technology to make such devices usable in Jamaica. - File photos
It is all the rage now. Cars that can find your favourite restaurant, know which street you work on, and can take you home with a voice command.
It is the leveraging of global positioning systems for everyday use and car manufacturers, working with the doyens of technology like Microsoft, are including them in vehicles now to keep their edge on the market.
Here in Jamaica, the Mona Geo-Informatics Institute (MGI) has created its own mapping or navigational system, and will in a matter of months, offer the service to companies and individuals.
Here is how it works: You buy the hardware, and MGI will programme the Jamaican coordinates for a cost.
Now the fancy device on the dashboard of your BMW, Volvo, Benz or any other showpiece vehicle can actually have functionality.
Of course, a car finding its way through New York is not the same as, say, an SUV taking on the challenge of the twists and turns of Stony Hill, nor locating a house in a small township in diverse St Elizabeth.
For one, street names and numbers are not a given here, so it makes MGI's work all the more challenging.
Still, it is not altogether clear what MGI's product will look like, nor how detailed it will be.
The institute merely mentioned its project at the 'Management Control Systems (MC Systems) 35th Anniversary Exposition and Technological Conference' held Wednesday at the Jamaica Pegasus.
According to director of MGI, Dr Parris Lyew-Ayee, the idea is to give Jamaicans the ability to track their location anywhere within the country, while also levelling the playing field by providing software to make GPS as useful here as it is in countries of North America and Europe.
While the date that the product will become available is not known, Lyew-Ayee told Sunday Business that it would be later this spring.
For now, MGI and Jamaica National are in negotiations to bring the navigational technology to market.
Commercialised by JN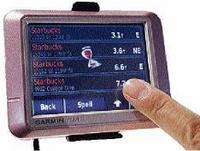 An attendee tries out the popular navigational tool Garmin Nuvi 200 at the Consumer Electronics Show in Las Vegas Nevada, January 7.
"MGI is responsible for the research and technical development of the product, but commercialisation will be done through the JN group and MCS and JAA," Lyew-Ayee told Sunday Business.
MC Systems and the Jamaica Automobile Association are both JN subsidiaries.
On Friday, MC Systems confirmed the talks but said they remained in the embryonic stages.
"Our partnership with Mona Geo-Informatics will see us offering Jamaican consumers a range of superior products starting with vehicle tracking and navigation solutions," said general manager Shereen Todd.
"We are very excited about this new technology and have great plans in store for our corporate customers as well as individual consumers."
Lyew-Ayee said it did not matter the type of navigational tools owned by potential clients, and MGI would configure any the device to the Jamaican landscape.
"We are not interested where you buy the device - whether it is Best Buy, it doesn't matter to us. What we are concerned with is the data that will make it work in Jamaica. That is the business," Lyew-Ayee said.
Bring navigational devices
MGI representative Mario Mighty said when the product makes it to market, prospective clients - companies and individuals - would have to bring their GPS navigational devices to MGI for configuration to Jamaica's topology.
MGI is the focal point for geo-informatics study at the University of the West Indies.
But the institute is also commercially savvy, developing products and services that it sells to different markets.
MGI, for example, provides services for private companies wishing to create virtual replicas of buildings and structures. It also maps and identifies areas suited to particular purposes for, say, a company seeking to expand to new locations.
Lyew-Ayee disclosed to Sunday Business, for example, that MGI has been asked by Digicel Jamaica to map all its billboards across the Jamaica, and to appraise the condition and content, and review new locations.
The new GPS technology is being launched after 18 months of research, field work and programming by MGI.
Lyew-Ayee refused comment on the actual investment in getting the product from design to market, but said it was funded by endowments as well as revenue from other projects.
Currently, only private security firms such as King Alarm and Marksman have the ability to track vehicles from a remote location, with the help of telecommunication companies.
This would be the first time that Jamaicans would have access to GPS technology that can be functional within Jamaica.
richard.deane@gleanerjm.com