Barbara Gayle, Staff Reporter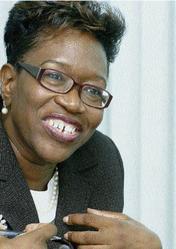 Paula Llewellyn created legal history yesterday when she became the first woman in Jamaica to be appointed director of public prosecutions (DPP).
The former senior deputy DPP succeeds Kent Pantry, QC, who retired last month at the age of 60, but who remained in the job until yesterday.
Llewellyn, who takes over as DPP today, had acted twice in the top prosecutorial job. She is described by her colleagues as a fearless and hard-working prosecutor.
"I am humbled having been afforded the opportunity to serve in this position," she told The Gleaner yesterday afternoon. She said she wished her predecessor well.
"I have always loved the public service and giving service to members of the public. They pay my salary and, therefore, deserve to have the best possible prosecutorial legal service that I can give as a prosecuting attorney," she added.
She would always be guided, she said, by the words of her mother Mavis Llewellyn (now deceased) whom she described as "my rock".
She has pledged to serve the public without fear or favour. "I must be courageous and I am guided by the fact that I can do all things with the help of the Almighty."
Ready to rumble
Llewellyn said she was ready to face the challenges, a task that would be made easier through team effort from the dedicated staff. She noted, however, that additional resources would be needed, so too the implementation of managerial best practices in order to accomplish her goals. She has promised to build a strong prosecutorial service which is dedicated to serving the public interest and bolstering the rule of law.
Llewellyn was quick to point out that the public interest embraces everybody, including victims of crime, accused persons, law enforcement personnel, human rights organisations and all stakeholders in the administration of justice.
President of the Jamaican Bar Association, John Leiba, wished her well and said he hoped she would be able to motivate staff at the DPP's Office.
For his part, George Soutar, president of the Advocates' Association, said he believed she would do an excellent job. He described her as very capable and said "no one can question her integrity".