Robert Lalah, Assistant Editor-Features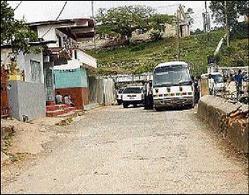 The town square in Stepney, St Ann. - photos by Norman Grindley /Deputy Chief Photographer
"Boss, mi a tell you mi can sing you know. Do mek mi just sing one more song fi you." The man saying these words was standing in front of me for the past five minutes, begging me to give him a chance to record an album. Why? I really don't know. He just came out of nowhere and started singing. "By the rivers of Babylon, where we sat down," he belted the tune with all his might while snapping his fingers. "And there we wepts when we remembers Zion."
Even though I was impressed that he almost managed to stay on key for part of the final line, I tried my utmost to explain to him, yet again, that it was well out of my powers to help him to record an album and that I was merely there in Stepney, St Ann to find out more about the place. He stared blankly at me for about 10 seconds. "So you nuh work a studio?" he asked. I told him that I didn't and wondered whatever gave him that impression. To my response, he made a sucking noise with his mouth and then just walked away.
Meeting Rascal
"Nuh worry boss, a because him a look a buss why him a gwaan so," someone behind me shouted. I turned around to see a man in a loud, orange shirt sitting on a barrel under a tree. He had beady eyes and a nose that could smell dinner cooking from a mile away. I went over to him and introduced myself. He told me to call him Rascal. A strange name to be sure, but I didn't question it.
"So wah you mean when you say you want to know more bout di place? Like wah?"
I told him I was interested in knowing about the people and the kind of lifestyle the residents enjoy. Rascal chuckled. "Well if we did know we woulda put on a pot. For nobody nuh come here come visit and nuh get nuh food fi eat. We is a humble people. We nuh too inna di excitement, although ..."
Rascal then explained to me that the community was right next to the more popular Nine Miles, birthplace of Bob Marley. "Last year rising star winner come from right here too," said Rascal. Suddenly, the impromptu audition I was a part of earlier, seemed to make more sense. I glanced over to where the singer had retreated and saw him sitting there, still pouting. Silently, I wondered if I had just passed on the next big thing.
Talented people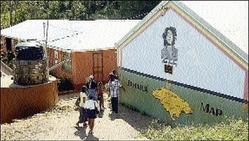 The school in Stepney, St Ann, that Bob Marley once attended.
"We have whole heap a talent down here. It inna di breeze, you know. Bob Marley used to go school inna dis community, so the youths dem tek the example from him. Is just a regular, quiet country town wid easy-going kind a people and thing," Rascal said, grinning.
At a small bar nearby, in what presumably was the hot spot in the community, I met a man with a beer bottle in one hand and a cigarette in the other. He was dressed in what seemed like brown, velvet trousers with matching hat. "Welcome to Stepney, man. Singer country this, man. Welcome man," said he. He was rather unsteady, an apparent side effect of the beverage in his possession, but I was grateful for the warm welcome.
Rascal told me that I shouldn't take this fellow's current state to form an opinion of the place and it's people. "We are a hard working people with a lot of consciousness. We nuh have time fi waste. Every now and again a man might drink a one beer fi feel nice, but we a nuh idlers," said he.
According to him, there are many farmers living in Stepney. "Dem grow yam and cabbage and some people grow pepper too. Is a hard working set a people, you know. Farming nuh easy because most time you can't even get a good price, but dem still haffi do dem thing. We a nuh wrongdoer. We just easy here inna di country a live a quiet life," said he.
robert.lalah@gleanerjm.com.