Paul H. Williams, Gleaner Writer

Anthony Richards' father died when Anthony was very young; his mother migrated to England soon after. As a result, he and his siblings went to live with different relatives; he and a sister with an aunt. It was a stable Christian upbringing with a high school education. Upon graduation, he felt the need to work instead of continuing his education. He joined the police force, which he served for nine years, eventually becoming a detective.
In 1989, he visited the United States, and was smitten by its neon lights. Anthony: "After obtaining a US visa, I decided to go to the States. There I saw brighter lights ... New York, it looked good. So I said that's where I want to live. I migrated and got married there, and actually got a green card. Was there for a while until ..." He started to abuse crack cocaine.
Anthony's substance abuse began in Jamaica while he was with the police force, but it was a different substance, alcohol. Being a member of an elite unit he underwent much stress and to cope, he turned to drinking.
Involved in violence
"I saw a lot of violence, a lot of violence, and actually was involved in some of them ... because it's 1980s we are talking about, right after the election. That was when I really, really started to drink, working in those situations. I didn't know then that I was slowly becoming an alcoholic, but that was what was happening,"Anthony explained.
The habit continued in the United States, but alcohol was not giving him the lift he wanted, so he turned to the 'white lady'. Anthony: "I started to use drugs, that's crack cocaine.
"The feeling, the euphoria, it was just different ... I felt as if I were out of this world. I was in a different place ... . It was just a feeling that I should not have had ... It made me feel good ... I tried it again, and again ... ,"Anthony said. Soon, a rhythm developed.
Because, as he said, "From the police force and the discipline that I had in the force, I knew very well that I had to work. I worked and somewhat maintained my habit, but in 1995, I realised things were getting really very bad." How bad?
The high feeling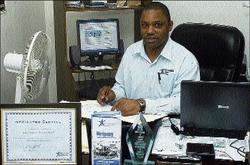 Anthony Richards in his office at Teen Challenge Jamaica, in Ocho Rios, St Ann. - photo by Roger Robinson/Freelance Photographer
"You don't want to live, after you get high, and get to a point where it doesn't feel good anymore ... and you find yourself in a lifestyle like that, you would want to kill yourself. There was nothing to live for, no purpose. But I was wrong because God still had a plan for me."
However, it was the love that he has for his mother and aunt that kept him alive. He didn't want to hurt them.
Having realised that if he had stayed in the US, he would have eventually destroyed himself, Anthony decided to return to Jamaica where he hoped he would have kicked the habit.
Anthony: "I wanted to stop using drugs so badly that I believed that if I changed the location, then there would be no drugs, and because I know everybody in Jamaica would be around me, I was not going to use it, but that was a lie, that was a big lie.
Upon his return, he found that the streets of Kingston were paved with illicit drugs. Anthony: "When I came back here, I realised that it would have been better if I had stayed in the United States. Drugs was on almost every street corner in Kingston. Everywhere I go, it was there."
Nevertheless, he tried to get back into mainstream society by finding a job. He found one, and for the first three months he was on his way. But the yearning for the euphoria derived from snorting crack was too strong, and he was back to his old ways. It was the dawning of a new millennium.
In 2000, he went to see Pastor Al Miller, who was very patient with him. Pastor Miller introduced him to Teen Challenge, an organisation that offers a residential recovery and rehabilitation programme. Anthony went through the interview process and was accepted. With a strong determination to make his life better, he successfully completed the programme, but stayed on to help the other participants.
Reinvention programme
The decision to remain at Teen Challenge was part of the plan to reinvent himself. He joined the teaching staff, working in the classroom for 18 months. Going through the ranks, he moved up to programmes manager, to programmes director and board member in 2004, then to acting executive director.
Recently appointed executive director of Teen Challenge, Anthony Richards has come a far way, and is thankful. He finds his work at Teen Challenge very fulfilling, and is truly a brilliant example of the maxim, 'While there is life there is hope'. But did he envision rising to the helm of the organisation that saved him from the ravages of drug addiction?
Well, he has arrived at the top, and to the person who is yet to try drugs such as crack cocaine, but is on the verge of doing so, he said, "I want to let you know that addiction is death on the instalment plan. Not all of us will be fortunate to come out of it. If you have never used it, chances are, you will be moving to kill yourself. It's another way of committing suicide."
For those who are already addicted, Anthony Richards' simple message is, "There is hope. Don't give up. Your life can be transformed, but you have to be willing to make that first step."
paul.williams@gleanerjm.com