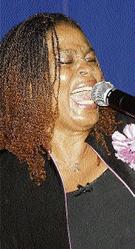 Judy Mowatt - photo by Anthony Minott
JUDY MOWATT is a native of Industry Village, Gordon Town, St Andrew. During childhood, singing came naturally to her and she always sang with church choirs. While at Holy Trinity and Kingston Commercial schools, she became a member of a dance troupe which toured Jamaica and the Caribbean.
Mowatt's aspiration was to become a registered nurse, but that was not to be. She was destined to heal through music. Her earliest influences in the music industry were Aretha Franklin, Otis Redding, Curtis Mayfield, Dionne Warwick, Bob Marley, Marcia Griffiths, The Staple Singers and The Soulettes.
A coincidental meeting with two teenage girls who were in her dance troupe led to the formation of the Gaylettes in 1967. They later became one of the most popular singing groups on the island and were even asked to sing backing tracks for Federal Records. They later recorded several hits on the label. By the early '70s, she had launched her solo career with soul ballads and reggae tunes. Several hits followed.
BACKING VOCALISTS
She then teamed up with Rita Marley and Marcia Griffiths to form the I-Threes and became Bob Marley's backing vocalists when the original Wailers, Peter Tosh and Bunny Wailer, left the group in 1974. The trio became famous for their fabulous costumes and dance movement (choreographed by Mowatt). They accompanied Marley on tours around the globe.
Because she has been blessed, Mowatt believes she should give back and in 1994, she spearheaded an organisation called Concerned Women in Action and raises funds for many charitable projects for various institutions.
Although she was a Rastafarian for 22 years, in 1995, she attended a gospel crusade and after soul-searching, went to th and became a Christian. Mowatt is now a born-again believer with a repertoire of gospel songs, and she also spreads the gospel.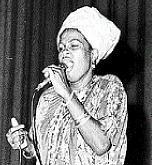 Judy Mowatt performing at the Carib theatre.