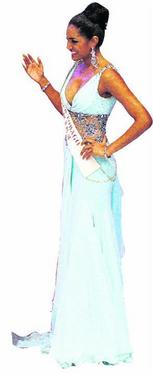 Miss Trinidad and Tobago Valene Maharaj.
BEIJING (Reuters):
China gave a cheer to its first Miss World on Sunday, with Internet chat rooms filled with praise for the 23-year-old beauty queen. Miss Jamaica Yendi Phillipps finished in the top 16.
Zhang Zi Lin, a Beijing secretary who was born in the gritty northern industrial city of Shijiazhuang, scooped the title late on Saturday on the southern Chinese resort island of Hainan. Micaela Reis of Angola came second and Carolina Moran Gordillo of Mexico was third, according to the pageant's website.
Trinidad and Tobago's Valene Maharaj, who placed fourth in the competition, was crowned Queen of the Caribbean.
Some 106 contestants participated in the competition. It is the first time an East Asian has won the contest.
Blog hits
A blog by Zhang on the Web portal Sina.com had over 1 million hits as of yesterday, with many fans posting their congratulations.
"You've brought honour to our country! We're all happy for you! We're proud for China!" wrote a fan named 'Tango'.
Long frowned upon by Beijing's Communist leadership, beauty pageants and other such contests have become hugely popular over the past several years. Many local television stations organise contests for everything from amateur TV anchors to models to American Idol-style singing contests.
Still, the government has tried to keep a check on them, banning television talent shows in prime time and telling anchors and contestants not to behave provocatively. Newspapers ran only brief reports on Zhang's conquest.
The front page of the Beijing News, a popular daily in the capital, was dominated by a large photo of a migrant worker taking part in an HIV/AIDS awareness campaign, with a much smaller photo of Zhang at the bottom of the page.
Miss Trinidad and Tobago
In an interview published in the Trinidad Express Sunday, an ecstatic Maharaj said: "It's been a great experience. I enjoyed every minute of it.
"My heart was beginning to drop on the floor when the finalists were being called and the last two spots remained. Then my name was called and I was like, 'Thank you God.'"
Maharaj's name was the fourth to be called when the finalists were announced. The order was Angola, China, Mexico, Trinidad and Tobago then Sweden. Minutes earlier she had made it to the top 16 finalists, which included Angola, Australia, China, Dominican Republic, Ecuador, Grenada, Ghana, Hong Kong, Jamaica, Malaysia, Mexico, Puerto Rico, Sweden, U.S.A. and Venezuela.
"I am so happy to be here. I am thanking God every second," she said.
Maharaj, who is a runway fashion model, has been in the beauty industry since age 16. Her modelling career started when she won the Caribbean Model Search, which took her to Jamaica in 2003 for Jamaica's Fashion Week.
Trinidad and Tobago (T&T) won the Miss world Title once, with Gizelle La Ronde over 10 years ago. T&T also won the Miss Universe title on two occasions.
Additional information taken from CMC.


Miss China and Miss World 2007 Zhang Zi Lin (centre), first runner-up, Miss Angola, Micaela Reis (left), and second runner-up, Miss Mexico, Carolina Moran Gordillo, pose for a photo at the end of the Miss World 2007 event in Sanya, on the Chinese island of Hainan, on Saturday. - REUTERS