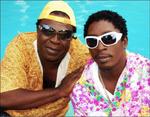 Contributed
Chaka Demus (left) and Pliers.
Mel Cooke, Freelance Writer
Murder She Wrote, the Chaka Demus and Pliers 1992 classic deejay and singer combination which broke out of the Jamaican dancehalls at home and abroad to hit number 27 on the United Kingdom charts in 1994, is a bit of a contradiction.
After all, the infectious tune on a lively rhythm (a remake of the beat to Toots and the Maytals' 1966 Festival Song winner Bam Bam) is about death.
Tale of murder
It may not be murder in the strictly legal sense, or a thriller like the cases tapped out by Jessica Fletcher (played by Angela Lansbury) in the television series of the same name, but with that crucial comma (as in Murder, She Wrote) but for many a Jamaican abortion is considered murder.
It takes a while for the 'murder' to be revealed, as it is not until his third verse that Pliers sings "now every middle a de year dis gal go have abortion, fi de coolie, de white man an de Indian, a jus de odda day me see har six mont' pregnant, a now she deh pon road not a baby inna pram".
Pliers, who starts the song with "I know this little girl her name is Maxine, her beauty's like a bunch of rose, but if I ever tell you 'bout Maxine, you would say I don't know what I know/but murder she wrote" says that the lyrics were written "long time."
Personal experience
"From me a little yute inna de Red Hills area, me write de song offa a experience," he said.
It was a very personal experience as he says there was "a girl me did deh wid name Maxine an' she fin' sey she pregnant an she mussi have abortion or suppen. She neva really tell me, so me jus' lef' out dat".
It was an old song in another sense, in that he had tried it out on record before. Several times, in fact.
Along the 'trying path'
Pliers told The Sunday Gleaner that he had recorded Murder She Wrote for six or seven producers on different rhythms, but was not satisfied.
He kept trying "because me jus' feel like it have a potential to make it good, because every time me sing it inna dance people mek me sing it four, five time. Me never stop try with it."
Along the 'trying' path, Pliers hooked up with deejay Chaka Demus and they became an official and lasting duo.
In fact, the deejay had urged him to try Murder She Wrote on the Sly Dunbar and Robbie Shakespeare Bam Bam remake rhythm.
"Is Chaka Demus force me to sing it on the rhythm. Me love the rhythm, but me never feel the vibe. How me pitch it, it never fit it," he said.
And Chaka Demus told The Sunday Gleaner that he was ready for the combination, also with lyrics from a song that he had already recorded. So when the chorus was finished, in he came with "a pretty face an bad character, dem deh kin' a living cyaa hol' Chaka."
He reinforced it with "gal yu pretty but character, yu run to Tom an Dick an also Harry, an when yu fin' yu mistake yu sey dat yu sorry."
His experience was not as personal as Pliers', but the situation was close at hand.
"A girl live near to me, very pretty, but character dirty," the deejay said.
He says that she never knew that she was the subject of the song, as "I never make anybody know. Right now if me see her, she laugh with me and she don't know she is part of the lyrics."
The song was recorded at Dynamic Sounds in a rather unusual way. The deejay and singer did not go into a recording booth, but stood over the mixing board and passed the microphone to each other.
Nor did they realise the magnitude of a song that they say is easily their biggest song, "anywhere we get inna de worl'".
Considering that they count the UK chart-topping Tease Me and Twist and Shout among their hits, that is saying a lot.
Success comes as a surprise to duo
After they recorded Murder She Wrote, Chaka Demus and Pliers did not follow its progress.
In fact, Pliers said he had his hopes on a song entitled Rough This Year to hit it big. And when he first heard that Murder She Wrote was making strides, he did not believe it.
"Me did have a little place, rent a room inna Edgewater. Me inna de room one Friday night. Dem did have a chart (on the radio) and me have dis girl, an me hear a girl come in an knock pon de door and tell my girlfriend she hear a song fe me pon de chart. Me sey which song? Me not even hear it," Pliers said.
It was his girlfriend who went outside to hear what was happening on the radio, but the chart had moved on by the time she got there.
'Dis tune gone'
Pliers dismissed it as a lie, but the next week the same woman came to say that Murder She Wrote was at number 14.
"Me sey she cyaa a tell lie so," Pliers said. "About two weeks after, me start to get a lot of calls from London. Is like them a play it every five minutes (on the radio stations there) an them a call me an a sey listen it. Me sey dis tune gone.
"A years dem have we inna it an a tie we out. Me know sey God nah sleep."
Chaka Demus realised that Murder She Wrote was popular "when me a walk pon road an people a tell me. People tell me me yu have a tune. Me sey which tune and dem sey wid you an a yute whe name Pliers. Me sey wha?"
Then, he started hearing it on the radio himself.
"When me go a dance me hear dem a pull it up all five, six times," Chaka Demus said.
The pair was signed to Island Records after the song had already blown up.
Video for the song
There was, of course, the video for the song, in which Dancehall Queen Carlene made an unforgettable appearance.
In fact, there were two videos and Chaka Demus and Pliers told The Sunday Gleaner that the one without Carlene cost US$2,500 and the one with her cost US$50,000.
It is the record, though, that remains in rotation after all these years.
"Murder She Wrote is a must. Dem still a play it hard a club all over the world. When yu go inna de Yankee club, the white people club, dem still play it," Pliers said.
- M. C.