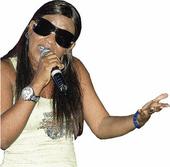 File
Tanya Stephens' 'Little White Lie' is a rare musical treatment of the 'jacket' from a female perspective.
Melville Cooke and Krista Henry, Gleaner Writers
When Johnny Cochrane reminded the jury in the OJ Simpson murder trial 12 years ago that "if it doesn't fit, you must acquit", he was talking about a too-small black glove for the football-player-turned-actor's too large black hand.
The jury duly acquitted.
In Jamaica, though, the fit that is often the subject of much debate by the jury of inquisitive eyes is a jacket. Not the one of cloth stitched by a tailor, but the one of, just maybe, the fabric of very strong language, conceived in the womb of a woman by someone other than her partner in a supposedly monogamous (at least on her side) relationship.
The man who accepts paternity of a child whom he believes to be his, but is not, is duly said to have been given a jacket. And when the jury of the public assesses supposed father and child's features and complexion and finds glaring discrepancies, the jacket is deemed to be a bad fit and they duly convict.
More and more, though, men who suspect that they are wearing the fabric of someone else's comings and goings are leaving behind the comparison of noses, eyes and foreheads and turning to science to determine the truth. That truth can hurt, as The Sunday Gleaner reported on October 7, that from a study done in 2002, 33 per cent of men who had a DNA test done at Caribbean Genetics (CARIGEN), based at the UWI, found out that they were not the fathers of the children attributed to them.
And Dr. Compton Beecher, lead scientist at CARIGEN, said, "We strongly suspect that the figure is now higher than that, but we will not be sure until our study is completed by the end of October."
In the same article, Dr. Barry Chevannes, of Fathers Incorporated, says the practice is not new, and the seemingly high rate of exclusion does not come as a surprise. "The fact is when a man has an outside child it is usually known, and, more often than not, accepted by the family, but the scenario is different when a women gives a man a 'jacket'. He suffers public shame and is often ridiculed," Chevannes added.
Nothing for the closet
With manhood inextricably linked with virility, paternity being the ultimate public proof of a man's ability to stand up to his sexual duties, and dancehall music incessantly probing said manhood, it is no surprise that the matter of the jacket has long been fodder for deejay's lyrics. The tone of the tunes veers from acceptance to derision, but one thing is sure - a jacket is not a matter to be kept in the closet.
Mr. Vegas took the commonly spouted male stance in Jacket when he semi-sang:
"Dem a raffle up an a dip
Me dem wah fi gi di jacket
But mi nah go mine no pickney
if me know a nuh me mek it
Drop back dat an mek another
pick
Smaddie else dat might a fit
Caw da pickney deh not even have
as much as mi finger tip ..."
And he goes on to state categorically that "two nigger cyan bring coolie pickeney ..."
For Vegas, it was the threat of a poor fit that spurred the artiste to pen his popular song. When The Sunday Gleaner contacted the artiste he admitted that the song was based on his personal story. "It was a true life story. A girl was trying to give me a jacket. I knew it didn't add up; I had double protection," he said.
Mr. Vegas is the father of three children, all of whom he had tested to make sure this 'raffle' was the right draw.
Vegas added that "before I started getting kids of my own, I had one or two jackets flung my way. A lot of kids in Jamaica are jackets; there is a high amount. Getting a DNA test done is more difficult than in the States; it's more expensive here. I know friends who have had DNA tests done and found out that the kids they have raised is not theirs".
According to Vegas, a lot of Jamaican men can relate to the song, which got him a lot of forwards.
Women are almost invariably painted as the villains of the two-timing tale of conception, with Tanya Stephens' Little White Lie being a rare take from the female perspective. She sings:
"I see your Daddy, in everything
you do
And if you could talk, I'll bet
you'll talk like him too
But he can't be your daddy, I hope
you understand
The man who thinks he's your
father is a much better man."
In this case the mother would tell a "million lies" to guarantee that her child has the best life with a Daddy who is willing and able to actually be there - even though the mother cries for her deception every night. Tanya Stephens says that the song came out of hearing the stories of many persons she had come into contact with.
primitive behaviour
"I have witnessed quite a few cases of this happening. It's always the same story, where you blame the women and ostracise the child, treating them bad. I think that behaviour is primitive. I thought I'd spark a discussion in that direction," she said.
Little White Lie helped in bringing a new outlook on a tried and tested story. "I got a good reaction from a lot of men who said that they had never thought of it like that. A lot of women especially come and seh it's their story, either as a mother or as that of the child," Stephens said.
It is doubtful if deejay Vybz Kartel is among those who would give that good reaction. He does not see the raffle as anything to shout and be happy about, as he has denied being the biological father of four-year-old Adianna Palmer and has written a song about the situation.
It is called (what else?) Jacket.
Deejays call the raffle
In the late 1980s, Shabba Ranks declared himself the Best Babyfather, deejaying:
"Fi mi jacket it no buil, a no tailor
Only waan buil by a baby modda
Who use to be Bravo one time lover
Bravo tun har dung so she come to
Shabba
Me a de Minister a Minding inna
Jamaica ..."
Most likely Shabba's position is the decidedly minority view.
In Should I Run, Mackie Conscious puts the question of whether the man who finds out that a child who he has raised as his own should is actually a 'jacket' should stay or leave to the listener.
While he may not have addressed the 'jacket' at length, in the plaintive, For the Babies, Damian 'Jr. Gong' Marley asks, "is there no other option than adoption for your babies/you raffling and jacketing and auctioning your babies". Kip Rich puts a humorous twist on the 'raffle' as he runs through a number of characteristics that would mark a newborn as a particular male entertainer's child.
And while it is a serious matter in real life, on record and from the stage the raffle was cause for humour as Kip Rich deejayed "if yu see a baby, as him see Ninja Man him start kicking, a Kartel baby" and "if yu see a baby look like curry dash whey inna him hair ... a Elephant Man baby".
- K.H. & M.C.