Avia Collinder, Outlook writer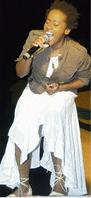 Etana during her performance at the Jamaica Cultural Development Commission's (JCDC) Emancipation Vigil, in conjunction with the St. James Parish Council, at Sam Sharpe Square, in Montego Bay, on Emancipation Day, August 1. One of the nation's rising female artistes who uses her music to highlight social ills, Etana closed the show with the crowd calling for more. - File
The self-scripted melodies of Etana can make you remember yearnings long buried as the melodic sounds enter the ear and the mind as rain upon parched ground.
Etana, the young singer who rejected the words and image of the sexy dancehall genre in favour of visible lifestyle defined by Rastafari, has by all evidence, been vindicated in her choices.
The chanter has been having a unique effect on audiences here and abroad.
Her debut single, Wrong Address, which sizzled slowly and then was aflame, is still alight with heavy radio rotation. Her latest single, Roots, is taking the same trajectory.
Etana herself comments that Roots "caught on slowly. (But) now I hear the people singing and its just a joy. The youths are also singing. That's what I expected them to do."
First signed to the Kingston-based Fifth Element Records and labelled 'The First Lady' Etana says she got tired of doing the videos in lingerie and braiding hair. Not wanting to be labelled a temptress, Etana shed the sex symbol image for natural hair, a new diet and long skirts.
A life-defining moment was the deep shame she felt when she saw a five-year-old singing and dancing to a raunchy tune which she had sung. "I could not believe I had introduced that to her," she recalls.
The change was accompanied by shedding the name given to her by mother, Justina McKenzie.
Etana, born Shauna McKenzie, switched to 'Etana' or 'Strong One', which she believes better describes her.
Drop out
Her mother, who had taken her to Florida at age nine, was not happy. Etana also dropped out of Broward Community College, where she would sit and write songs in lectures.
It was while at college also that she began research on genetically modified foods and went into the state of shock that would lead to her embrace of a more natural way of life. "All the food we eat, the water we drink and even skin products have some kind of element that can lead to cancer."
For days she could not eat and became dehydrated.
She decided to eat more healthily and was at the same time listening to Sizzla, Capleton and Marley talk about the black experience and embracing all that is natural and good.
She says today, "I say Rasta because it has everything to do with nature, Mother Earth and everything natural, upright levity, no confusion, no bad mind, nothing negative."
The greatest love
"I am not bashing religion," she states. "I was baptised before. But, you can't love anybody unless you love yourself. The best lesson I have leant is that the greatest love you can have is for yourself and the creator of life."
When in 2002 Etana decided to return to Jamaica to embrace her roots in August Town, Jamaica, the home base of Reggae icon, Sizzla, and her own original home, her mother told her she was on her own. That was then.
Today, her daughter knows that her mom is fiercely proud of every step she takes.
Etana's lyrical dexterity and strong sense of mission is evident for her and all to see.
Wrong Address was an inauspicious beginning. There were some who said the song would not succeed and even Etana had her doubts.
But, by the end of 2005 when she took the mic at Sting and the whole crowd sang with her, she was left breathless with happiness.
Etana's debut single, Wrong Address, struck a resounding chord. Next was Money and then Roots, released in May 2007.
Etana's debut album, which is still untitled, will be released early next year.
Her life now involves a busy schedule of promotions and doing video shoots interspersed with shows in Europe, the United States and most of the Caribbean islands. Her most amazing experience, she says, was in Ghana.
"Reggae music in Africa is like food. In Ghana, at the show, the people were singing the music as if they know it already. When you sing a Bob Marley song in Africa, the whole crowd sings it with you."
Her song, Roots, she says is an inspiration from her travels in this African country. She told her producer that she wanted the music to sound like a union of Africa and Jamaica. The result was exceptional.
"When the track was finished I got goose bumps," she says.
For such a young women, Etana has the old philosophy of taking every day as it comes, saving her intensity for writing and the stage.
"I take my days easy. I go kind of slow. After I get up (late) I might read several psalms and chant a little bit. Then I know I am ready to take on anything that can happen during the day."
And anything could happen.
At the premier reggae/roots show, Rebel Salute 2007 in January, the singer's vehicle got a flat tire and was embroiled in traffic leading up to the venue. Etana had to run, arriving just in time to hear her name being called.
Life presents the kind of challenge she feels she is equipped to deal with. The mother of one child, a male, she is completely committed to her son and infusing life into her own label. Free Mind Music and B.E.S. Records.
She will not relax her guard she says, until her second album is completed and when she has a couple other artistes signed to her Free Mind Music.
Truthfully, she admits, her journey along her self- determined path has carried her into some disappointments, but, "just like Sizzla, Capleton and Marley, I will be the influence even for a handful. I have decided to tread on in spite of the difficulties. If I had to do it all over again I would."
The singer states, "where I am right now, there is room for improvement. For me, there is no limit."
She believes self-improvement and independence are a must for all women.
To young ladies in her age group, she says, "Try your best to be more independent. Love yourself. Love yourself. I could say it forever.
"It is lack of self-love that creates bleaching and the feeling that a man has to say 'I love you' so you can feel good about yourself. If you love yourself, and you are independent, there is no limit to what you can achieve."
To men she says, "I love the songs that men are singing (now) about women. It is time they come around."