Adrian Frater, News Editor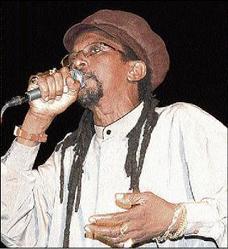 Veteran singer Edi Fitzroy performs at 'Tribute to Peter Tosh', held at Independence Park, Savanna-la-mar, Westmoreland, on Friday. - Adrian Frater
Western Bureau:
While Friday night's 'Tribute to Peter Tosh' at Independence Park in Savanna-la-mar, Westmoreland, was designed to highlight the life and work of the legendary Wailer, the opportunity was also used to show respect to Lucky Dube who was murdered in his native South Africa last Thursday.
"Lucky Dube was a man who was inspired by Peter Tosh and it is sad that he met the same fate as his idol met 20 years later," said the show's promoter Worrell King. "He, too, was an icon in his own right as he was a true son of reggae music."
Renowned Rastafarian elder Iyah Vee, the master of ceremony for the first segment of the show, bemoaned the fact that the black family was continuing to lose its icons to violence and raised questions as to who will be the role models for the current generation of wayward black youth across the world.
"When people like Peter Tosh and Lucky Dube are murdered, it robs us of the people we should be looking to for inspiration," said the elder Rastafarian. "When they destroy these great men, they are hurting the very foundation of our black existence."
Minute of silence
Singer Edi Fitzroy, who called for a minute of silence in honour of Lucky Dube, said he was saddened when he heard the news and said this incident is yet another reminder that good people are not immune from the wickedness stalking the land.
"Reggae has lost one more of its bright stars and from all account, it was another senseless act," Fitzroy said. "I feel really sad by this act against such a great man."
Radio personality Denise Miller, the master of ceremony for the second segment of the show, also took time out to discuss Lucky Dube's contribution to reggae music as she reminded the audience that he was inspired by Peter Tosh.
"It is just so sad that this great messenger of reggae music was taken away in such a senseless manner," said Miller. "This is yet another opportunity for us as a people to implore those among with evil intention to change their wayward ways."
An angry sounding Luciano was uncompromising as he vented his anger at 'shottas' and 'dem dutty gun'. He sought to implore them to part company with their guns and seek a life of righteousness.
"We need fe get rid a de dutty gun dem and go seek Jah and his righteousness," said Luciano. "Those who fail to heed the warning need to know that a time is coming when the dutty gun won't be able to help them."