Anthea McGibbon, Gleaner Writer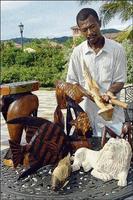 Troy Lawrence of St. Elizabeth is one craft person allowed free access to the property at Sandals, Whitehouse, to sell the items he makes.
IT SEEMS that the days, when you could stroll into a craft market for craft to the beats of calypso drums, at least as Ocho Rios businessman Kumar Sujanani remembers it, are no more. Sujanani remembers the roofed Datsun Headley Building, by the Old Victoria Pier with a lovely fountain, and the restaurant and bar in downtown Kingston as being only for craft products.


Meantime, artists such as Alexander Cooper reminsces on the early days when there were more than 60 travel exhibitions, where Government would sponsor artists to travel abroad to showcase their work.
Putting craft into the perspective of Jamaica's tourism and art, the definition by art historian Veerle Poupeye is that tourist art (comprising craft), widely used, is art specifically produced for, or circulated primarily in, the tourist market. It usually is highly standardised and repetitious, to the point of being stereotypical, because tourist want items that are typical of the destination and easily identified as such. There are different types of tourist art, she says, from the cheap trinket (often mass produced) to more ambitious, original and expensive pieces.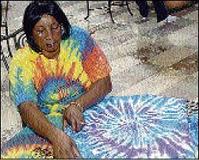 St. Elizabeth's artist Cynthia Sinclair displays her tye-and-dyed T-shirts.- Photos by Noel Thompson
Here in Jamaica, the range of materials used to make craft items include blue mahoe, bamboo, coconut shell, leather, cow horn, lignum vitae and foliage. Still, an additional number of craft items are imported are from materials that could be found locally, such as breadfruit tree and banana leaves.
As the market for selling craft items expands, there is need for clarification, at least on the role.
Montego Bay businessman Indru B. Dadlani clarifies the distinctions between those offering items for tourists. In-bond shops, licensed by the Government do not sell craft nor souvenirs, but sells instead jewellery, electronics, tablecloths, cameras and imported items. In souvenir shops, mementos of a country, which are most times mass produced, can be had.
According to Dadlani, craft should be indigenous to Jamaica, made by hand and authentic. Here in Jamaica, these can be largely sourced through the craft markets or on the property of some hotels.
A number of tourists, including Jamaican-born Felippa from Baltimore, have told The Sunday Gleaner "they want something they can identify with - as being Jamaican and representing Jamaica". Some tourists claim that the stories behind the pieces they hear from the vendors or artisans add value to the craft.
Along the north coast, just a few miles from Ocho Rios, is Harmony Hall, perhaps the only gallery, successfully offering a combination of commercial and fine art. According to co-owner Annabelle Proudlock, an artisan herself, the gallery, emphasising quality, offers art and crafts that are usually not available in the craft markets and other souvenir shops.
Largely specialising in Jamaican products for tourists, Annabelle believes than only a small percentage of Jamaicans and tourists appreciate the quality, especially in the higher end. Still, she believes in the strong link between art, craft and tourism, as a huge foreign exchange earner for Jamaican and also "spreading the message that we have world-class artists".
vital link
Gilou Bauer, curator of Mutual Gallery, has on display 58 artists at the Montego Bay Airport. She sees a vital link between art, craft and tourism. Art and craft, she says, "are expressions of the identity of a people and important cultural linkages to tourism".
However, in Jamaica, she opines that "our art and our craft have not been effective tools of expression of Jamaica's culture. For instance, many craft items sold in tourist areas come from Haiti, which has its own iconography, different from that in Jamaica, as well as those manufactured in China. She identifies Harmony Hall, Gallery Joe James in Rio Bueno, Jaja's or Hoffstead Gallery and a few sculptors in Negril, and Gallery Mockingbird in Port Antonio, among the few exceptions.
In her experience, she has seen "fine artists in Negril with superb art items hidden in the back of their shops while on display were commercial items that would sell for a few dollars to tourists".
The 'Art in the Airport' programme, Montego Bay Airport, is geared towards the promotion of art and culture rather than its sale is still in its infancy. One of its objective is to maintain sufficient art displays to truly sensitise the visitors to Jamaica to a deeper artistic experience, which will encourage them to go and seek the styles and genres.
Ultimately, both airports will be tools to expose Jamaica's visual art capability, as at the Norman Manley International Airport, Kingston, projects are under way to mount varied art expressions.
Operations manager at Jamaica Grande, Wills Green, believes that art is key to enabling any country in achieving First World status. As such, he envisions art galleries, museums and villages along the north coast and confirms Jamaica Grande being among the extended list of hotels, especially the all-inclusives, that gives craft vendors free access to display and sell their wares.
The hotels in turn benefit from this arrangement as the guests have easier access to the island's craft. So far only one hotel applies a daily charge to craft vendors, claiming that the money is used for defraying expenses to facilitate the vendors. Fine artists, on the other hand, sometimes pay a commission to the hotels.
Ian Spencer, PR manager at Sandals, Ocho Rios, which hosts regular Jamaica Day events, observes a higher interest in craft than paintings whether industrial or fine art. Former JHTA head Horace Perkins admits that islandwide little exposure has been given to fine art, including fine craft which might be sufficient rationale.
Anthea McGibbon, a graduate of the Edna Manley College of the Visual and Performing Arts, has over 10 years' experience in the fields of journalism and the arts. Contact her at islandartattack@yahoo.co.uk or anthea.mcgibbon@gleanerjm.com.