Howard Campbell, Gleaner Writer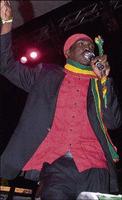 Anthony B in performance.- Ricardo Makyn/Staff Photographer
For much of his career, deejay Anthony B trod the time-honoured path of recording hit singles and following trends to keep current. But a trip to Brazil six years ago opened his eyes to a different world.
"Mi go and si Jimmy Cliff as the biggest thing down dey, and this is a place wid 40 million people, compared to Jamaica wid just over two million. Yuh cyan tell him sey him small," the gangly Rastafarian said in a recent interview with The Sunday Gleaner.
That's quite a change in view from the fiery toaster who burst on to the music scene 11 years ago with chart hits like Hurt The Heart, Fire Pon Rome and Raid The Barn. With a new album, Life of a Ras, due to be released in October, the 31-year-old Anthony B is not thinking about promoting a potential hit song or music video.
"To me, man like Burning Spear and Yellowman a the role model, yuh nuh. Mi nuh really follow the man wey dey round now," he said. "Mi like the passa passa and having a hit song, but the amount a time yuh spend trying fi get a hit song in Jamaica yuh could be on the road accumulating more."
He may have studied the blueprint for longevity patented by road warriors like 'Spear' and Yellowman, but Anthony B still knows the importance of keeping the flow. His latest hit, Tease Her, was produced by Mario C. Deejay Wayne and Don Corleone, producers with their ears to the ground, all contributed tracks to Life of A Ras.
second album in one year
The album is Anthony B's second in less than one year. Higher Meditation, distributed by British company Greensleeves Records, was released early this year.
With Life of A Ras and Higher Meditation, Anthony B retains a release formula first practised in 1996 when his debut album, Real Revolutionary, was released by Greensleeves. That album was also marketed (with track modifications) as So Many Tings by VP. The markets in North America and Europe, he reasoned, are worlds apart.
"With VP yuh know is like the dancehall hype, so yuh need popular songs, but is a different thing in Europe," he explained. "Higher Meditation came out with no hit single, no media hype, and is a big-selling album in place like the Czech Republic."
Anthony B has come a far way from the raw country boy out of Clark's Town, Trelawny, inspired by the roots message of Peter Tosh and the innovation of 'gangsta' deejay Ninja Man. Using that combination, he rattled the mainstream with the hard-hitting Fire Pon Rome in 1996. The song took jabs at corporate and political leaders and scored heavily, even though it was banned from the airwaves.
brimstone
He was regarded as the original 'fiyah man', calling down brimstone on everything that moved. Those days, he said, are over.
"Mi nuh waan nothing get monotonous inna mi career, mi nuh waan people hear sey mi bun dis and dat fi five, six years," he said. "People still look at mi like dat, but dem also si a lot of creativity."
Fire Pon Rome was produced by Richard Bell, the man behind Startrail Records, which had a purple patch during the Rasta revival of the mid-1990s. The label also produced hit songs by Everton Blender (Lift Up Your Head) and Garnet Silk (Mama Africa). Bell handled production for Real Revolutionary and Anthony B's follow-up, Universal Struggle, but has since faded from the picture. Anthony B has little to say about the split.
What he is willing to talk about is Life of A Ras, for which he is planning a promotional tour. There is no time, he stressed, for complacency.
"If yuh go to Germany now yuh find only three or four of us as Jamaicans on a reggae show. The other 15 are from France, Germany, Holland," he said. "Yuh may be the hottest artiste in Jamaica but those people are not seeing yuh."