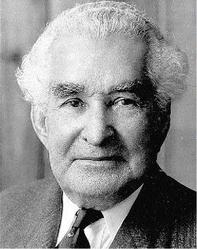 The late Sir William Alexander Clarke Bustamante, leader of the Jamaica Labour Party, served as Jamaica's first Prime Minister after the country gained independence in 1962.
He retired from active political life in 1967, and received the Order of National Hero in 1971.
Bustamante travelled the world; working as a policeman in Cuba, and as a dietician in a New York City hospital. He returned to Jamaica in 1932, and became a leader of the struggle against colonial rule. He came to the the public's attention as a writer of letters to the Daily Gleaner newspaper. In 1937, he became treasurer of the Jamaica Workers' Union, which had been founded by labour activist Allan G.S. Coombs. During the 1938 labour rebellion, he quickly became identified as the spokesman for disgruntled workers, and manifested the charisma that was to lead to a distinguished political career. Coombs' Jamaica Workers' Union, became the Bustamante Industrial Trade Union (BITU) after the revolt, and Bustamante became known as 'The Chief'.
He was imprisoned for subversive activities in 1940 and released in 1942. In 1943, he founded the Jamaica Labour Party.
Source: Information provided by Seragh Lakasingh, executive director of the Bustamante Foundation.Mr. Hartley Neita, columnist at the Gleaner Company andwww.wikipedia.com
Did you Know?
He was a dietician in 1919 at the Hospital for Joint Disease in New York.
He believed in living a healthy lifestyle. His diet consisted of freshly extracted juices, vegetables, fish and a little chicken. Even in prison he was careful with his diet. His tomato juice and cod liver oil had to be delivered to him daily.
One of his favourite quote was, "Ignorance is accepted where wisdom isnot expected".
He was a farmer and owned a farm in Retreat in St. Thomas, where he planted bananas and coconuts. He also raised cattle and operated a beehive.
- Keisha Shakespeare-Blackmore