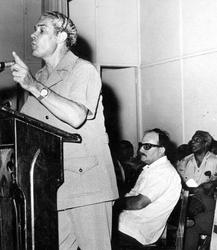 Michael Manley in a militant mood in this 1973 file photo. Manley, relegated to Opposition Leader in the Seaga years, refused to go to the polls on an outdated voters' list.
1962-2007: 45 years of nationhood
Every day until August 6, The Gleaner looks back at significant milestones that have helped shape the nation. Don't miss this nostalgic journey.
Following a landslide victory by the Jamaica Labour Party (JLP) at the polls in 1980, then the bloodiest year in modern Jamaican history, the new Prime Minister, Edward Seaga, sought to assure the nation that no future elections would be held without an updated voters' list.
Leader of the Opposition, Michael Manley, and Opposition Spokesman on Finance, Seymour Mullings, in separate statements, warned that the People's National Party (PNP) would not go to another poll if the voter register did not facilitate fair elections.
In 1983, Seaga, also the Minister of Finance, announced that Jamaica had passed the Inter-national Monetary Fund's Septem-ber quarterly test. It was subsequently revealed that the country had indeed failed, and the PNP called on Seaga to resign as Minister of Finance.
Clean sweep
Seaga's response was to call snap elections to be held on December 15, claiming he did so on the basis that the Opposition had called into question the integrity of his administration.
The PNP refused to participate in the polls on the grounds that the Prime Minister had broken his word not to hold elections until a new electoral list was ready.
In the elections, 54 JLP candidates were returned unopposed and six others won seats contested by independents and minor parties. And for the first time in Jamaica's history, all 60 seats were held by members of the same party. This came to an end in 1989 when the People's National Party defeated the Jamaica Labour Party.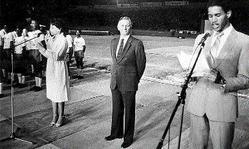 1983: Shaun Jones (right), 1982 Jamaica Scholar, reading the Prime Minister's message to the youth of Jamaica at the Jamaica Salute and Flag-Raising Ceremony at the National Stadium. Prime Minister Edward Seaga (centre) listens to the message, while Yolande Brown, 23, the 1982 Rhodes Scholar, waits her turn. Looking on are some of the 51 youth clubbites who took part in the relay run with the message around the island. - file photos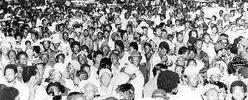 A section of the large crowd which attended a Jamaica Labour Party (JLP) mass rally held near Bustamante's statue at South Parade, Kingston, to mark one year of JLP rule. JLP leader, Prime Minister Edward Seaga, addressed the rally.