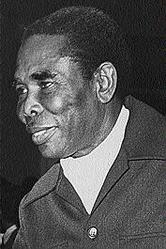 Kinkead
Veteran news photographer Charles Kinkead, O.D., has died in Florida where he had lived in retirement since the late 1980s. He was 93.
Mr. Kinkead died in hospital last week Friday after suffering a stroke and falling at his home in Pembroke Pines.
Earned respect
As a news photographer, Mr. Kinkead earned the respect of his peers in the news media during stints with The Gleaner, the Jamaica Standard, the weekly Jamaica Times and the Daily News.
At the Daily News, he won the Seprod Human Interest Photograph Award in December 1973 with a citation stating that a particular news shot "illustrated a reflection of the city of Kingston in the situation of its typical citizens".
Five years later, in 1978, Mr. Kinkead won a national honour, the Order of Distinction "for his contribution in the field of photo-journalism".
He is survived by his wife and five children.
His body will be returned to Jamaica next week for a funeral scheduled for June 14 at the Anglican Cathedral in Spanish Town, starting at 1:00 p.m.