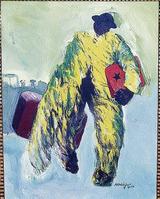 Stafford Schliefer's painting, Nomad Warrior, 'Giant Stepper'. - Contributed
Stafford Schliefer is an artist living and working in Mona, St. Andrew, Here, he discusses his work with Dr. Jonathan Greenland, executive director of the National Gallery of Jamaica.
Please talk us through your work 'Charismatic Figure: Nomad Warrior, Giant Stepper'.
This is a painting of a tall, standing figure strutting across a landscape. It is inspired by my great admiration for Marcus Garvey. The word 'nomad' refers to the fact that Garvey was a traveller. The word 'warrior' is because I regard him as one of our great warriors. He had vast experience of promoting the Black cause internationally and so, all in all, he is my hero. The purpose of the painting is to capture his heroic qualities.
Is that why the viewpoint is of looking upward towards a giant marching towards you?
Precisely. I wanted to give the feeling of a great figure of a man: domineering, charismatic, overwhelming, but non-violent.
The figure is painted in an interesting way.
Yes, I used hatches or crossed lines for the main figure as opposed to my usual way of approaching the subject. Usually, I work in a more 'painterly' way with diffused, blended tones. I don't know if people noticed it but the colours of the hatches are those of the Jamaican national flag. The brief case under his arm refers to the Black Star Line.
Is there a relationship with the work: 'Charismatic Figure: On the Purple Mountain Top'?
Yes, like Garvey, Dr. King was a very moving orator. In this pair of works I wanted to deal with two well-admired, international people. The 'purple mountain top' is what I regard, metaphorically, as the place where people go who do brave deeds. If you look closely at the painting, the purple mountain has a toppling figure in the lower section of the painting, below the large figure. The objects that look like garden flowers refer to microphones; they are not very representational so I don't blame people for not making them out. The painting is symbolic of Dr. King's popularity, the esteem he was held in and his powers as a speaker The toppling figure refers to his being shot down by an assassin.
Can you talk us through 'Totem for Negus Universality, Unlocked'.
There are two unlocked doors that signify emancipation. 'Negus' is a term I use for negritude. The red, yellow, green and black colours represent Negus Universality. They have been energised with a new-found sociocultural identity - as if jostling for a powerful exit from the box. So, in brief, the work is intended to depict emancipation: the door has been unlocked and opened and the signs and symbols of negritude are dancing around it with energy. They are about to come out.
Is it a political work?
Perhaps, in a sense, the work is intended to reflect a positive condition of self-awareness in the Black diaspora. As for the other two: for many years I have wanted to do Garvey and Dr. King. I have always wanted to do Mahatma Gandhi too. I admire them all and that is it really.
Have you done a lot of tribute works?
It's not unusual for me to do tributes but I am very selective in who gets tributes. I also admire Bustamante, Norman Manley, Nelson Mandela and Mahatma Gandhi, but I think that in many ways most of my works are motivated by the intensity of suffering in our society - and the accumulated need. To overcome this motivates me most of all.
Is this something you have experienced personally?
I used to when I was struggling more as a younger artist. I was suicidal sometimes! But nowadays I suppose I am more of an observer on suffering. My work is a response to what I observe. My work 'Past and Present: Still Life with Links' is a good example: you can see in the painting the old slave manacles connected to modern-day handcuffs. The manacles are symbolic of man's enslavement of man for profit and the handcuffs represent the present - the enslavement for punishment. It reflects a certain sociological change but also continuity.
It'sappropriate in the context of the Bicentenary of the Abolition of the Slave Trade.
Do you also look at other artists?
Yes, many. I have a number of favourite artists: Picasso because he represents almost everything for me in an artist; Goya for his humanity and pathos, I think he too was a close observer on humanity; Salvador Dali for the pure imaginativeness and inventiveness; Georgia O'Keefe for the freedom of her imagination; Diben Korn for the abstract brilliance of his compositions; Titian, Caravaggio, Turner and Vermeer for their atmospheric light; also the German artist Joseph Beuys. I also like Larry Rivers and Helen Frankenthaler. I find Frankenthaler very poetic in the way she uses the pigment: thinly, sparsely, with great economy but great effectiveness; it creates an almost spiritual effect.
Who are your favourite Jamaican artists?
Eugene Hyde, Carl Parboosingh and Carl Abrahams. I have a special admiration for Chris Gonzales' sensitive work. Carl Parboosingh's use of colour is wonderful and also his raggedness. I love the edges in his works: the irregularities. Most of our masters I admire greatly: Barrington Watson I think is one of the best draughtsman I have seen anywhere in the world.
There is a wonderful energy in many of your works; I'm thinking particularly of 'Sonatina for a Pumpkin Vendor' in the National Gallery.
Some people say even my still-life paintings are full of motion! I think it relates to my character. When I am stimulated emotionally it tends to manifest physically as well. For instance if I hear music I always want to dance! And I sometimes end up being the only one dancing! At my age people don't expect me to do that. I express myself physically and that comes through in my paintings. Early in my career I was doing a lot of energetic stuff - birds on a line on a telephone pole fighting each other, Cock fights. Personally, I don't like the idea of fights - two animals tearing at each other. It's not pleasant but it is bestial and true. Art should not always be pleasant.
Did you go to art school?
No.
Do you regret that?
Not at all. I take pride in being individualistic. I have the impression that when people follow the academic route they fall into mainstream, traditional or established approaches.
What do you think of Jamaican art scene?
You can have it! I am far removed from it - it is too political for me. But we are not the only offenders in that regard in the western world: in the United States there are many conflicts and prejudices that are racial and nationalistic.
What is your greatest moment of artistic achievement?
How can I remember? If there is one at all?
Do you feel you have had the recognition you deserve?
There have been times when I have been unfairly rejected. But that's a leading question: I don't know what I deserve! I'm happy when I just meet people who admire my work. That is very gratifying. When you sit and wonder "What should I get?" I think that can be a troublesome attitude; it can lead to unhappiness and frustration. Early in my career we started the Contemporary Artists Association on Oxford Road and we had an exhibition there in which I had a piece. It was a landscape and eventually it was selected to be presented to the Pope at the Vatican by our then Prime Minister Hugh Shearer. It was the beginning of my career and I wasn't accustomed to receiving commendations like that.
What are you favourite materials?
I started with oil but fairly recently switched to acrylic which I have gotten used to. I'm quite happy with acrylics now. But it is not the same. Occasionally I revert to oil: the feeling of oil is unique.
What is your favourite work of art?
Picasso's famous painting 'The Dream' from the 1930's. It depicts a female figure seated as if in a trance; it is very simple but beautiful and effective. Also Picasso's 'Desmoiselles D'Avignon': a much more complex piece but I like the movement and the cleverness of the composition. I like to think I work like that sometimes and so that is the correlation!
Where is your favourite place to paint? I notice you are not an outdoor painter, but more of a studio painter.
How do you know? Yes, I am a studio painter but I get ideas from all around, and make memory notes. I am always more comfortable working by myself in solitude. I usually work at home during the daytime or sometimes late at night.
Is light very important to you?
It is very important. Unfortunately my makeshift studio nowadays is not working well in that respect. The window is wrong.
What advice do you have for young Jamaican artists?
Not to be greedy. The temptation is to want everything all at once. It is a time-consuming effort to be an artist. It takes a lifestyle. You need to have that lifestyle and just keep painting. Be true to yourself as an artist; do not copy other artists for any reason, not because of admiration or you think it makes money. The best thing is to have faith and confidence in yourself: to be your real self is the key.
Have you traveled a lot?
No, I wouldn't say so. I lived in the States. But now I remember that I was a seaman! I worked on tourist liners when I was a young man. I went to a lot of places. That was before I was a professional artist but I was always painting and doing my art work.
Did living in the US help your work?
Oh yes, I'm glad I went. I'm glad I made that bold decision to widen my horizons. I met a lot of interesting people. Meeting and talking aesthetics with painters like Georgia O'Keefe, Fritz Scholder, Paladin, and Eugene Grigsby did a lot for my work. It also helped me to control my ego, which was - as for most young artists - considerable. I thought I was hot stuff when I was here in Jamaica: I could be anything, I was the greatest. And then when I went to the states I found that I wasn't. I was 33 when I went and. I met a lot of good artists - who were starving too. I realized we are here for a purpose and it is best to do it honestly, but we're not better than anyone else.
Where do you see your work in five years time?
I want to do a series called 'Plantation'. Some cynical local collectors see it as commercial exploitation. But there is a whole gamut of dehumanized experience in the plantation part of our history: from the cane cutters to the mulatto nannies. All of these things still have great significance for our identities today. But I can't divulge everything right now.