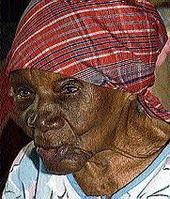 'Granny Mary'
Byron McDaniel, Gleaner Writer
MANDEVILLE, Manchester:
The woman, believed to be the oldest person in Jamaica, has died and was buried yesterday in Manchester.
Mary Ewen, ortherwise called 'Granny Mary', died at the age of 128. She was born at Coley Mountain in Manchester on May 5, 1878. She died on April 10. Granny Mary was married to Tommy Ewen of Coley Mountain, and had six children. Two of her daughters are still alive, one is 82 and the other is 84 years old.
Lived a clean life
Granny Mary's granddaughter, Yvonne Hall, was her caregiver. She is one of Granny Mary's 25 grand-, great-grand and great-great grandchildren. Granny Mary attended the Coley Mountain Elementary School. She lived a clean life and she never drank alcohol. She was a midwife in her district and delivered many babies.
The beloved woman was very fond of children and was a devoted Christian and church attender.
Her father reportedly lived for 130 years. Granny Mary attributed her long years to God's blessing and the eating of simple and healthy natural foods.
She was buried at the Grace Open Bible Church, Coley Mountain.