Kavelle Anglin-Christie, Staff Reporter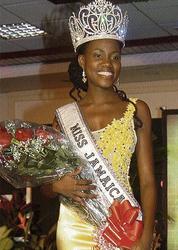 Zahra Redwood created history Sunday night when she became the first Rastafarian to be crowned Miss Jamaica Universe. The coronation took place at the Hilton Kingston hotel, New Kingston. - Winston Sill/Freelance Photographer
Miss Jamaica Universe 2007, Zahra Redwood, made history on Sunday night at the Hilton Kingston hotel in New Kingston.
Redwood, 25, is the first Rastafarian to win the competition and will move on to represent Jamaica in the international finals in Mexico on May 28.
Said Redwood following her historic victory: "I was just in absolute awe. I was elated, I was overwhelmed; it's a feeling I've never felt before, so everything that I'm saying is just a mere approximation to the emotions I was going through at that time."
She added: "I was just in awe and I guess it showed on-stage because I didn't even shed a tear or anything. I was really happy. It's like 'oh my gosh, the dream has finally come to reality'."
Sanique Vacciana copped the prize for 'Best Smile', Tiffany Smile, for 'Best In Gown', Stacy Ann Kirlew won the 'Best in Swim Suit' prize, while Zahra won the 'Most Congenial' and 'Most Aware' prizes.
The top five were Tiffany Smile, Sydonie McBane, Marsha-Gaye Reynolds, Redwood and Sanique Vacciana.
As the proclamation came over the system, 'Zahra Redwood, Miss Jamaica 2007!' an African song played softly in the background and Cindy Wright, Miss Jamaica Universe 2006, balanced the large diamond crown on Miss Redwood's pinned locks.