THE ROLE of coaches or trainers, whatever you call them, is to nurture talent, not to destroy or abuse it.
But at the two-day JN/JPS/Juciful Eastern School Sports Association (ESSSA) Athletic Championships, which ended at the National Stadium on Tuesday, one of Jamaica's brightest sprint prospects, Carrie Russell of St. Thomas Technical, was overused by coach Ryan Patterson.
If you remember, Russell was Jamaica's lone medal winner in the girls' 100m at last year's World Junior Championships in Beijing, China.
At the World Junior Champion-ships, Russell made a name for herself by showing Jamaica and the world what she is made of by taking the 100m in a personal best 11.42, an improvement from 11.79.
She also played an important role on the girls' bronze medal 4x100m team, which also included Naffene Briscoe, Anastasia Le-Roy and Schillonie Calvert. The team was timed in a season best 44.22 seconds.
With such a talent, to ask a prize 16-year-old athlete like this to run five events in one day, especially after running the heats on the previous day, was far too much work.
Russell, who watched her two Class Three 100m (22.20) and 200m (24.81) records taken away by Glengoffe's Natasha Morrison, re-wrote the Class Two sprint records.
Affected performance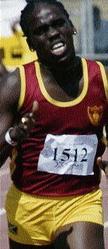 Carrie Russell - file
Russell ran 11.88 and 24.86 to beat Kacey-Ann Robinson's seven-year-old marks of 12.00 and 24.91 respectively. She also won the one-lap event in 57.64 seconds, minutes after the 100m and about two hours before running the 200m. The 400m run affected her 200m performance as she is far better than 24.8.
Russell again returned minutes after to run a sizzling second leg for her team to win the Class Two sprint relay in 49.54. She closed the day with the mile relay, which saw her team cross the line in record time but later get disqualified because it was Russell's fifth event of the day, which is against the rules.
All this may be because coach Patterson wanted to win at all cost.
The fact that St. Thomas had no chance of winning the title meant Russell shouldn't have been in even four events, especially with major junior competitions in the air for 2007.
Based on her performances in 2006, which saw her win the Under-17 sprint double at the CAC Junior Championships - 100m (11.79) and 200m (23.75), along with the relay gold - Russell is a medal contender for the World Youth title in Ostrava, Czech Republic.
Russell's mother was hopping mad with the coach's decision after learning of the workload her child was given in one day.
After all is said and done, someone - maybe ISSA, the school's principal, the JAAA, the ESSSA, or even Carrie's mom - should demand some answers from Patterson, who has not only broken a rule, but could damage her talent if he continues in this vein.
Please send your feedback and comments to anthony.foster@gleanerjm.com.