Kavelle Anglin-Christie, Staff Reporter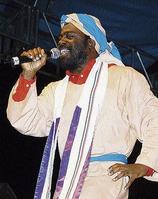 Lloyd Lovindeer, the master of Pocomania Day, in his element at last year's National Labour Day concert in Falmouth, Trelawny. -photo by Janet Silvera
Say the name 'Lloyd Lovindeer' and it immediately evokes the thought 'wa-wa-wild Gilbert'. In the song, Wild Gilbert, he playfully sings about the tragedies that 1988 Hurricane Gilbert unleashed upon the island. It was a time when very few, if any, had much to laugh about.
Still, there is more to this feisty artiste armed with witty lyrics, but you'll have to dig to find it. This is because he says he doesn't like to talk about himself; you just have to ask the right questions. It's even more difficult than it sounds. What is easy, however, is thinking about any grievous situation and a fitting Lovindeer song. Remember the '70s hit Blinking Bus where he lamented the typical Jamaican bus ride? Remember Babylon Boops and Happiness in the Park? For many he can safely be called 'a man for all seasons'.
Sunday Gleaner: How did you get started in entertainment?
Lloyd Lovindeer: It was from the days of high school when I was in a dance group called 'Fabulous Flames'. It started off as three of us, but it ended up as four.
How did you balance school and performing?
It was difficult at times, but we were dedicated to music so we did all the sacrifices necessary. But we were just doing it as a side; it was only when we left school that we started performing professionally.
After you left school, what was it like performing with the 'Fabulous Flames'?
After we left school we won gold in the Festival competition - that was about 1969, 1970 - then we got an offer to tour Canada. It was fun, because I was a very responsible person.
When and why did you guys stop performing together?
The group broke up about 1980. Everybody wanted to go solo, so everybody went their separate ways. I didn't want to go solo, I was the one who was against it. Going solo was a last resort. After that I worked in an office in Canada at a life insurance company in the audit department, but I decided to come back home because of the cold and the winter.
What was it like going solo for the first time?
It was difficult. The songs that I wanted to record producers weren't interested in them because they were more social commentary and what some would call conscious reality tune. I was writing songs like The Blinking Bus about the bus system in Jamaica, and Man Shortage, which is still appropriate today.
Did you find that producers didn't take you as seriously as they should have because some of your songs had a comedic element?
Because I wasn't doing 'serious' songs as they call it, I found that, but I do songs for entertainment. That's what I do. I do it primarily for entertainment, but I am a serious songwriter. I was talking about things at that time that they weren't used to and I didn't sound like the popular singers of that time.
What was the demand like for you outside of Jamaica?
It was great outside of Jamaica. I was like a king, especially all over the Caribbean islands. I still have clippings of those shows. At the time I was the number one artiste in the Caribbean.
Why did you decide that puns were your niche?
It was just that I used to teach English at KC and I love to have fun with words. You can say a lot of things but people will always hear the sexual things, so it is really left up to the interpretation of the listener. I love to have fun with words and challenge people's minds.
Do you see any other artiste who uses your style?
Yes Wayne Marshall. I heard one of his songs the other day and it reminds me of me. I saw him and he said 'respec' boss, 'cause a your style that'. But in general, people are not really writing that way anymore. It is more to your face and blatant, mainly because a lot of them don't have the type of language to write that way. You only write what you know.
What are you working on now?
I am working on an album now, The Sounds of Jamaica, and it supposed to be released by the end of February. I have been working on it for the past two years ... I have so many things to say that it ended up being double album and it is a collection of topical material. The reason why it took so long was because my parents died and I took a break, but I'm back now.