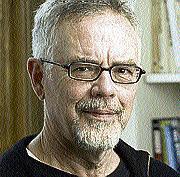 Trivers
Dr. Robert Trivers, long-time resident of Southfield, St. Elizabeth, has been awarded the 2007 Crafoord Prize in Biosciences by the Royal Swedish Academy of Sciences.
The Crafoord Prize, worth US$500,000, recognises achievements in disciplines that comple-ment those for which the Nobel Prizes are awarded.
The academy cited Dr. Trivers "for his fundamental analysis of social evolution, conflict and cooperation".
Dr. Trivers was also cited in a special 2000 Millennium issue of Time magazine as one of the 100 greatest thinkers and scientists of the 20th century.
Robert Trivers, who once described himself as a Jamaican in soul and spirit, first went to the United States in 1967 as part of a Harvard University study on lizards. In his words, he took one look at the women of the island and a second at the island itself and decided that if he had to become a 'lizard man' to pay for frequent visits to the island, then he would humble himself and become a 'lizard man'... And so he did part of his doctoral thesis on Jamaican green lizards!
He has lived on and off in Jamaica ever since. In 1974 he married Lorna Staple of Southfield with whom he has four children - Jonathan, 31, Natasha and Natalia, 29, and Alelia, 26.
In 1997, he married Debra Dixon of Cornwall Mountain, West-moreland, and they have one child, Aubrey, seven.
Dr. Trivers is also head of the Jamaican Symmetry Project at Top Hill Primary in St. Elizabeth, the largest symmetry study in the world. The project is funded by Rutgers University, where Dr. Trivers is currently professor of anthropology and biological sciences.
Humble achiever
Vernon Cameron, the former principal of Top Hill Primary, believes Dr. Trivers is a humble achiever.
"Bob is a very humane, loving and humble person. He is always interested in people, even the smallest man."
According to Dr. Trivers, if it were left to him alone, he might have been working in Jamaica now. "In 1986, I tried for the only job on the island that suited my background, professor of zoology at the University of the West Indies. I was not surprised that UWI had no interest in me."
In 2005, Dr. Trivers and six other colleagues had a cover story published in Nature - the world's leading scientific magazine - entitled 'Dance reveals symmetry especially in young men'. It was based on a study done in Jamaica which used Elephant Man's Mek Dem Bawl as the base music.
Dr. Trivers was once a confidante of former Black Panther leader Huey Newton.
The professor's colourful life includes 10 days in the Half-Way Tree police lock-up over a disputed hotel bill. According to an August 27, 2005, London Guardian article, "Robert Trivers could have been one of the great romantic heroes of 20th-century science if he'd died in the '70s, as some people supposed he would."
The man who was once dubbed 'the bad boy rebel of evolutionary biology' is becoming, even if rather reluctantly, part of the international scientific establishment.