Robert Lalah, Staff Reporter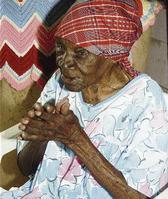 Granny Mary, who is believed to be 128 years old, spends her days in her bedroom in Mile Gully, Manchester. - Ian Allen/Staff Photographer
She's a little hard of hearing and a bit scared of venturing too far from her bed, but Granny Mary's mind is surprisingly nimble, especially considering that she is believed to be 128 years old. That's right, 128 years old. If this is true, it would make the little woman from Mile Gully, Manchester, the oldest person alive anywhere in the world.
Granny Mary occupies a small bedroom of a family home in the quiet community and was sitting on a white plastic chair beside her bed when the Sunday Gleaner paid her a visit last week.
"Who is that gentleman?" she said to her granddaughter as I approached the door. She was dressed in a floral dress and sported a happy smile.
She took my hand and gave it a slight squeeze without looking up. "How you doing? You family and you people dem haughty?" she asked.
Granny Mary is a pleasant woman and enjoys the company of anyone who pays her a visit. She loves a good conversation and is thrilled when she gets to meet new people.
"This little old woman is here. I'm just here waiting for the good Lord to take me home," she said with a feeble voice.
Many decades ago, Mary Ewin was a mid-wife in her community and enjoyed her work immensely. Today, though her memory of her working days has for the most part faded, her eyes still light up when you ask her what work she used to do.
"Some big strapping people you see walking around, I was the one who delivered them. Them big and taller than me, but is me born them," she said with a slight chuckle.
Granny Mary doesn't quite remember what year she was born, but she said she knows that she is well over a hundred. "Me stop count when mi pass hundred. Mi reach far enough, it don't matter after that," she said.
You have to shout in Granny Mary's left ear for her to hear you properly. I did this when I asked her how she spends her days.
"All I can do is stay in that bed (she points to the bed) and sit in this chair. They bring food and give to me right here. Sometime I take my cane and walk to the door, but I can't do anything else. But I thank God, because it could be worse. Thank God," she said.
It is clear that Granny Mary is a religious woman. When I brought up the subject, her face looked sad.
"When I had my freedom I used to go to church every Sunday. Now I can't go anymore, but I thank God because it could be worse, some people have it worse," said Granny Mary, who has two daughters.
World Record Holder?
The Manchester coordinator of the National Council for Senior Citizens confirmed that Granny Mary is 128 years old. The Sunday Gleaner was, however, unable to get confirmation from the Registrar General's Department. Guinness World Records currently has a 116-year-old woman from the United States as the oldest person in the world.
Residents of Mile Gully speak fondly of Granny Mary, saying that they are amazed how sharp her mind still is. There's no consensus on just how old the woman is, but everyone with whom we spoke, agreed that she is more than 120 years old. I spoke with a woman who said that she fears Granny Mary's death, because according to her, the whole mood of the community would change.
Granny Mary on the other hand, is as carefree as can be, saying she has absolutely no fear of dying.
"Whenever the good Lord say that it is time, then I am happy to go. I will go to heaven and wait on the others to follow," she said.

"Some big strapping people you see walking around, I was the one who delivered them. Them big and taller than me, but is me born them," she said with a slight chuckle.