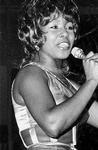 - FILE
'Lollipop Girl' Millie Small is caught in action as she did one of her crowd-pleasing numbers at an Easter Extravaganza concert at the National Arena in April 1971.
In 1964, a teenaged Jamaican girl named Millie Small and her chart-busting, ska-skanking hit My Boy Lollipop took the national and international music scene by storm.
The song rapidly advanced to simultaneously garner the number two spots on both the United Kingdom and United States music charts.
According to one of Millie's online biographies My Boy Lollipop continues to be one of the all-time biggest selling reggae or ska discs, having racked up over seven million units to date. Millie's current producer, Arley Cha, says the song continues to be played across the United States every day, in every state, on CBS FM radio.
Greatest all time hit single
Cha also says that My Boy Lollipop holds the number three spot for the greatest all time hit single for 1964, bested only by the world-acclaimed Beatles and the Rolling Stones, who hold the number one and number two spots respectively.
Any Jamaican old enough to remember anything about 1964 will remember the sheer energy of Millie's voice, the frenetically pulsating ska beat and the instant party-pandemonium that would seize the crowd the moment a DJ dropped needle to vinyl on a crazily spinning turntable. And those who aren't old enough to have experienced the immediate impact will have certainly experienced the song since.
But 1964, the year Millie Small's name was inked indelibly into the annals of Jamaican and world music is long gone. In her own words "Millie Small is a big young lady now," as she celebrates her 60th birthday this week in the U.K., where she now lives, and where she has maintained her connections to the music industry.
Instant openness, vibrancy
Small's instant openness and vibrancy was clear over a three-way telephone hook-up through Arley Cha between London, Washington, D.C., and New York late last month.
Millie's singing career began in the early 1960s with a win in the nationally popular Vere Johns Opportunity Hour talent contest at the Palladium Theatre in Montego Bay, Jamaica. Millie remembers the prize for the contest being about 10 shillings. Success brought the twelve-and-a-half year-old Millie to the newly established Sir Coxsone Dodd's Studio One label at Brentford Road in Kingston, where she first recorded with Roy Panton as part of the duo Roy & Millie, debuting with We'll Meet.
Millie's strong vocals caught the attention of Island Records' Chris Blackwell, then a fledgling producer. Blackwell convinced Dodd that he could launch Millie's career if she was under his management.
Although Blackwell was anxious to have Millie come to the U.K. it wasn't until 1963, when Millie was old enough to travel alone, that she made the trip to London where she went into the studios with Chris Blackwell for her fourth recording, her signature version of My Boy Lollipop.
The song previously released by American rhythm and blues singer Barbie Gaye, was released under Blackwell's more mainstream label, Fontana Records, as Island was yet still a financial fledgling in the recording business.
According to Millie and her manager the song debuted on both the U.K. Music Week and U.S. Billboard charts, hitting the number two spot in a mere three weeks and making it the first major hit for Island Records. The song propelled Millie into instant stardom, making her, according to Cha, 'Jamaica's first and foremost female superstar.'
Holding top spots
Cha points out that for a singer to hold top spots on both major music charts at once is to attain the pinnacle of music career success.
Millie remembers returning to Jamaica in 1964 for a massive welcome-home party and a later visit in 1971 for Easter shows in May Pen and at the Palladium in Montego Bay, where she had won the Vere Johns contest that had set her on the path to stardom.
Millie does not recall ever being overawed by anything when she travelled to the U.K. alone as a teenager and then had to handle worldwide success.
"I hadn't planned on being a star, but I always wanted to be a singer, and I felt like it was my destiny to go to England," Millie said.
At the time she was 'more like a 30-year-old woman in a teenager's body', Millie said, as she remembers personally making the arrangements for her passport and other travel arrangements to the U.K. She remembers the look of disbelief on the face of a former schoolmate as they travelled together on a bus to Kingston, when Millie told her that she was going to England the coming weekend to record with a label there.
With success came more recordings, including two other hit singles, Sweet William and Bloodshot Eyes, and a whirlwind round of tours across Europe and Asia. Up until the early 1970s Millie continued to tour and to perform overseas, remaining in Singapore from 1971 to 1973 before returning to the U.K. which has since become home base. In 2004 Trojan, a one-time sister label to Island Records, released an album of Millie's songs, entitled after one song from the '70s, Time Will Tell. The CD continues to be available online and from other music sellers.
Although Millie ceased touring and recording a number of years ago, Arley Cha says "Millie is back!" Cha and Millie have been in the studios recording several songs for an album that is to be released soon. Millie says that she is "a better singer, wiser and knows more about what's going on in the world." Since the 1970s, she says she has been writing songs, creating art and tuning in spiritually, including daily meditation. She has raised a daughter, now 22 years old, who is herself studying art and the music business.
Although her parents have now passed away, Millie still has family in Jamaica with whom she stays in touch, including one brother, a sister and a nephew.
"Life is wonderful," Millie says. "I am very happy, very positive and confident, and I'm looking forward to delivering wonderful music when I return."