Howard Gregory, Contributor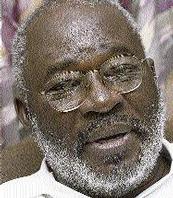 Rev. Dr. Lewin Williams
I first met Lewin Williams in 1974 while he was registered as a student at Howard University School of Religion and I was a student at Virginia Theological Seminary, and we both registered for a course taught at Virginia.
It was not until Lewin came to join the Faculty of the United Theological College of the West Indies during my incumbency as president that our paths crossed once more.
Within two years of arriving at the UTCWI, Lewin was appointed deputy president, a position which he held for about 10 years of my 12 year tenure. It was during this time and in this capacity that I got to know Lewin well.
Lewin brought to the faculty strong academic credentials and a critical theological mind. He soon set about bringing his theological interests into the classroom by re-working some of the theology courses which were being offered in the seminary, and was a pioneering figure in helping to create the first course in Caribbean Theology in the region.
His interest in grounding theology in the context of the Caribbean and in a relevant praxis led him to develop an annual Easter field trip to Cuba - which brought a whole new dimension to the way theology was being taught in the college and in generating interest in students for doing relevant praxis-oriented theological reflection.
Unique relational style
As deputy president, he had special responsibility for community events and community relations and used his unique relational style to pull the community together at times of potential conflict, and in keeping the various constituencies working together in the interest of community.
Often this meant serious negotiation between various competing interests, but he was always up to the task, even when it meant having meetings at all hours of the night.
Lewin had an unhurried style about him which was reflected in the way he walked and in the way he talked. It seems that Lewin never wasted words in the kind of verbosity to which we Caribbean people can be given at times. Each sentence was carefully crafted and when it was offered had some significance and weight to it. This was evident in interpersonal exchanges, in meetings, but also in his sermons.
Lewin was a person of principle. He was not one given to following causes blindly and so would be willing to state a contrary position and to disagree with judicatory and other constituted authorities, whether in his denomination or in the college. In this regard, he was not afraid of taking these positions even if they ran the risk of disturbing friendships and loyalties.
As deputy president Lewin knew what it was to play a supporting role, a position which few can fulfill without conflict and challenge. Perhaps it was his apparent lack of desire for the limelight and for flare that made him able to fulfill this role. I could depend on his consultation and support in arriving at decisions and in the execution of the same. Likewise, he enjoyed the confidence of his colleagues on the faculty as well as the members of the student body.
In assuming the office of president in 2003, Lewin brought some of these characteristics also. There was no fanfare to his work and contribution as he set about the task in his usual unassuming and unobtrusive manner.
He consulted his faculty and allowed them freedom to be creative and to make their unique contribution. In the developmental aspects of the life of the institution he sought the wisdom, expertise, and contribution of those who were willing and able to offer the same.
Unfortunately, the last few years of his life have been plagued with a number of physical ailments. He was conscious of these and was looking forward to retirement and to spending more time with his beloved Joyce, and in devoting time to pursuing some writing which he has long had a desire to pursue, but was never able to undertake because of the demands of his job.
Unfortunately, this was not to be in the wisdom and providence of God.
I offer to Joyce, his daughter, and the other members of his family, as well as his many friends and colleagues, my sincere condolences at this time, and pray that you will find comfort in the embrace of the God in whom Lewin believed and served, and whom he sought to share with such passion with his students and those who came under his pastoral care.
May he experience rest, peace, and that state where there is neither pain nor sorrow in the nearer presence of God.
The Rt. Rev. Dr. Howard Gregory, is the Anglican Bishop of Montego Bay and a former president of the United Theological College of the West Indies.
The Rev. Dr. Lewin Williams, president of the United Theological College of the West Indies, died in a New Jersey hospital on September 18, after a brief period of illness.
The Rev. Dr. Williams was also an ordained minister of the United Church in Jamaica and the Cayman Islands. A memorial service is planned for Saturday, October 7, at 11:00 a.m. at the Webster Memorial United Church, 53 Half-Way Tree Road, Kingston 10.
A condolence book will be opened at the United Theological College of the West Indies during the period October 2-6, from 9:00 a.m. to 7:00 p.m.