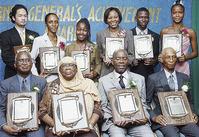 Recipients of this year's Governor-General Achievement Awards for the county of Surrey, pose with their awards. Back (from left), Dr. Parris Lyew-Ayee, Celia Barclay, Kadine Orrigio, Sydian Brissett, Kemar Hunter and Peter-Gaye Thomas. Front (from left), Laban Roomes, Dr. Aileene Williams-Allison, Donald Williams and Dr. Horace Hall. Missing is Kerrel McKay. They were awarded for their contribution to charitable organisations, the environment, health, culture, education, and sports. The ceremony took place at the Jamaica Pegasus, New Kingston, on Wednesday. - Rudolph Brown/Chief Photographer
ELEVEN outstanding Jamaicans from the county of Surrey were on Wednes-day honoured for their contribu-tions to society by the Governor- General Professor Kenneth Hall.
The Governor-General's Achieve-ment Award was established 15 years ago by former Governor- General Sir Howard Cooke.
This year, however, Professor Hall added his own flavour to the awards and established a youth award for excellence.
Speaking at the ceremony held at the Jamaica Pegasus hotel on Wednesday, Professor Hall said such an award would promote a spirit of excellence for young people.
"I congratulate the awardees for going beyond the call of duty to enrich the lives of the people in their spheres of influence, while forging national consensus, building social capital and projecting a self-reliant and self-confident Jamaica," Professor Hall said.
"Your contribution to charitable organisations and support for environment, health, culture, education, and sports activities demonstrate your commitment to good citizenship," he continued.
The Awardees
Donald Williams, a member of the Kiwanis Club of Kingston, was honoured for his charitable donations to school and senior citizens feeding programmes.
He was also recognised for assisting children of his employees by providing scholarships for them.
Dr. Parris Lyew-Ayee, a 26-year-old lecturer at the University of the West Indies (UWI), was awarded for academic excellence and his research in the field of Geographic Information Systems (GIS) and its use in the study of natural hazards.
Kadine Tameika Orrigio, a first-year medical student at UWI, was awarded for her volunteer work in the Flood Relief Aid for West Portland and clothing drive for the Glenhope Nursery, as well as academic excellence.
Dr. Aileene Williams-Allison, a nurse by profession, was honoured for her contribution to literacy in Jamaica, by introducing the Conceptual Phonics Baseline Data Reading Programme to teach four to six-year-old children to read.
Kemar Andre Hunter, a student of the Titchfield High School, was awarded for academic excellence in achieving eight CXC subjects, and his community participation.
Dr. Horace Washington Hall, a medical doctor from the parish of St. Thomas, was awarded for the free medical service offered to both students and senior citizens.
Celia Barclay, an outstanding lawyer and teacher from St. Thomas, was recognised for the unselfish care she displayed to others and her belief that "the field of law is one which would allow a person to impact on a wide-cross-section of society."
Laban Roomes, born in the parish of St. Elizabeth and later moved to Kingston, was honoured for his devotion to community service and work in the field of economics.
Sydian Brissett, a former Portmore and St. Catherine festival queen, was awarded for her contribution to children and her service to the Kiwanis Club of Caymanas Business District.
Peter-Gaye Thomas, from the inner-city community of Tivoli Gardens, was honoured for her performance in sports as part of the Jamaica netball team, and academic excellence.
Kerrel McKay, from the parish of Portland, was absent from the ceremony.