Yahneake Sterling, Staff Reporter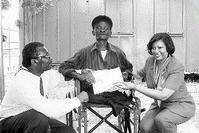 Lloyd Noicely (centre), the St. Thomas farmer who on Wednesday received a wheelchair from the Rotary Club of St. Andrew. Here Dr. Lloyd Eubank-Green (left), past president of the club, and Jennifer Anderson, club president, handover a certificate to Mr. Noicely after presenting him with his whellchair at Operation Friendship, Bell Road in Kingston. - Contributed
LIFE became easier for 65-year-old Lloyd Noicely, a farmer of Roland Street, St. Thomas, when he was gifted with a new wheelchair by the Rotary Club of St. Andrew, the Wheelchair Foundation and the Jamaica National Foundation.
Now, he can throw out the old iron one on which he had relied for help on his farm and around his house. Mr. Noicely, on Wednesday, was among 15 physically challenged persons, including three individuals from the Mona Rehabilitation Centre, who received wheelchairs valued at $525,000 to assist with their mobility.
News of his plight came to the attention of the rotary club after district constable Gilbert Hamilton of the Seaforth Police Station in St. Thomas told them of Mr. Noicley. His story became public after the local television programme 'Hill and Gully Ride' featured the legless farmer.
Despite his physical disability Mr. Noicely was a cheerful elderly man who willingly told his story.
Both of his legs are amputated. The right leg he said was removed in 2001 and the left one just last year.
I don't let it get me down
"This one get jealous man," he said laughingly pointing to his left side. "I don't let it get me down man, I still do my farming."
His produce includes bananas, plantains, coco and dasheen, as well as other ground provisions, which he sells to local market folk. This he said takes care of his financial needs as he has lived on his own for years.
Planting his crop he said is an easy task.
"I just go down on my bottom man. I put on three shorts and pants, pad my bottom with some sponge, put on gloves and grab my fork and get to work," he said boastingly.
Mr. Noicely noted that he is also able to carry out other tasks such as washing his clothes, bathing himself as well as cook his meals.
He said his faith in God helps to sustain him, and that he was thankful for having received the gift of a proper wheelchair.
In the last five years the Rotary Club of St. Andrew has donated hundreds of wheelchairs to the tune of $22 million. An additional shipment of 280 chairs are expected to arrive in the island by December.