Joseph Cunningham, Gleaner Writer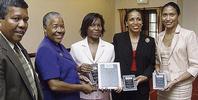 From left: Dr. Ernest Pate, Pan American Health Organisation (PAHO) representative, poses with a member of the panel of judges Berl Francis, and members of The Gleaner's health team, Eulalee Thompson, Rosalee Brown and Dr. Suzanne Soares-Wynter at PAHO's 14th annual Caribbean Media Awards for Excellence in Health Journalism at Jamaica Pegasus hotel, on Wednesday. - Rudolph Brown/Chief Photographer
The Gleaner's team of health writers Eulalee Thompson, Rosalee Brown, Suzanne Soares-Wynter, Wendel Abel, Trudy Simpson and Kenneth Gardner, has won the prestigious Pan American Health Organisation (PAHO) Sagicor Award in the field of health journalism.
The team was presented with the national award for the Best Story on Non-Communicable Diseases, which was titled, 'The Battle of the Bulge'.
Now in its 14th year, the awards are held annually to recognise excellence in health journalism.
Speaking about her latest success, health editor Eulalee Thompson, who has won more than 30 journalism awards said, "It is always a good feeling to win an award for my work as a health journalist. You are only as good as your last work, so to win another award from a group of competitive entries means that I still have an edge."
A pioneer
In delivering the judges' report, chief judge Alvin Campbell advocated for increased prominence of health features. He acknow-ledged Ms. Thompson, who he said pioneered vibrant health journalism in Jamaica and the Caribbean, noting that she was the major reason why there is currently an annual award in recognition of work covering health.
However, Mr. Campbell expressed dis-pleasure about what he described as the poor quality of the 2006 entries. He said that out of 24 entries, only two were eligible for awards, which was a sharp contrast to previous years. In this regard, he disclosed that in the future higher standards would be set for entries. Among these, he said, would be a request for recom-mendations from chief editors and or editorial managers.
An award was also presented to Durrant Pate of The Sunday Herald for his entry in the category - Best Print News Story, titled 'Cuban Government to Build Local Eye Clinic: Complaints of Complications in Cuban Eye Cases'. Mr. Pate also won the Jamaica Broilers/Press Association Fairplay award with the same entry.
The Gleaner's team and Mr. Pate will now be Jamaica's entries for the PAHO regional awards.