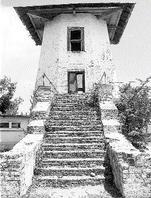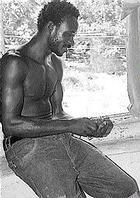 Left: The steps leading up to where the strange sounds have been coming from. Right: Taliban cooling out by his favourite window. - photos by Norman Grindley/Deputy Chief Photographer
Maxine Reid has been hearing some rather strange squeaky sounds coming from upstairs her tiny office in the old Monymusk Library in Hayes, Clarendon. Now of course, squeaky sounds aren't necessarily anything to panic about, but when the sounds are coming from an old abandoned tower that's been around for hundreds of years, well now that's another story entirely.
The massive structure was built to be used as a lookout tower more than 500 years ago and was later used as a windmill. Now that the bottom floor has been transformed into a small community library, the entire top portion of the building is abandoned. Or at least, so the librarian thinks.
"Every now and again I hear a strange tapping noise coming from up there. Sometimes it is like a moaning sound. One time I went to the side and looked at the step and I saw fire," said Miss Maxine, as she flipped through a dusty old book on a desk in the library.
"Sometimes the noise is loud and I hear like footsteps," she said, looking over the frames of her spectacles at me. She paused as if to listen and looked up at the ceiling. Silence. "It normally happens at night though and when other people are here it doesn't really happen either," she said.
Now the story was getting more complicated by the minute. You see, on our way to the library, photographer Norman Grindley and I met a short, friendly man riding a bicycle near to the gates of the sugar factory. We stopped to ask him directions.
"Massa, is what you going to dat place for? Wah mek you a go deh so?" he asked, looking puzzled.
Chalkie
The little man gave his name as Chalkie. He must have been close to 70 years old and he wore a cap that seemed a few sizes too small for his head. It was he who first told us of the strange things happening at the old Monymusk Library.
"Every night as it a get dark, about a thousand rat bat fly out of dat place you know massa! I live nearby, so mi see dem wid mi own eye. Thousands of rat bat a circle di place!" Chalkie said. "It look like something from outa one a dem old duppy show pan TV."
The old cane cutter, whose machete was tucked neatly into his trousers, was sweating profusely as he told the story. He admitted that he had heard of the strange sounds coming from upstairs the building. The part of the building that, as far as most people believed, was unoccupied. "Mi nuh inna dem ting deh," Chalkie said. He didn't want to talk about the noises anymore. In fact, the very mention of the sounds coming from upstairs the building seemed to bother the man greatly. "Look yah man. I leaving dis place. You gentlemen tek care of unnu self," he said and jumped back unto his old bicycle and pedalled off without ever looking back.
Seemingly abandoned
Now, standing there in the tiny old library with the librarian, I couldn't help, but wonder just what had been causing the noises. Sure enough, the top floor seemed completely abandoned. The steps leading up there were still in tact, but didn't seem as if they had been trampled on in centuries.
"I'm not going up there. My work is down here," Miss Maxine said. She too seemed as if she would rather not talk about it anymore.
So this was it. Time to get to the bottom of the mystery. We walked around to the side of the building and looked up at the stairs. They were covered with dirt and led all the way up to a broken wooden door. There was a large hole at the top of the door.
We were slowly climbing the steps going towards the door when a shuffling sound coming from inside caused me to stop suddenly. Then I heard something that sounded like a quiet chuckle. It was then that I decided that getting to the bottom of this mystery really wasn't necessary after all and I quickly turned around, my plan being to head straight for the bushes. Whatever was in that building would have a hard time finding me there.
Someone there
But as I was about to take off, I heard the door rattle and I turned around to see Mr. Grindley poking his head inside the building. He turned to me and said someone is in there.
Intrigued, I went back up the steps and looked through the hole. It was eerie. The room was very dark and there was nothing in there except an old wooden staircase that led to a higher floor. Then I saw it. Hanging from the ceiling, were two, dark and rather crusty legs. A man was sitting on the ground of the highest floor and his feet were dangling in front of us. My heart started beating faster when I looked across at a table and saw a machete beside some green bushes. Suddenly, the silence was broken when Mr. Grindley called out to the owner of the legs.
"Yes Sar? Hee Hee," was the response. Whoever it was seemed to be in a good mood. A bit more comfortable now, we pulled the door and ventured into the room.
He was a particularly dark skinned man with a scar over his left eye. "Yes Sar, welcome man, welcome," he said, smiling. The man jumped down from where he was sitting and turned to face us. His friendliness was unexpected. "You can come right in man, you can see the sea from dat window, hee hee," he said, pointing to a hole in the wall. There was a small bed and bottle of water in the room. Nothing else.
It turns out that there are no spooks in the top room of the old Monymusk Library after all. Just one enthusiastic handyman who calls himself Taliban. He's from St. Mary, but when he first visited Clarendon a few months ago, he liked it so much that he decided to stay. He makes a living cleaning the roads and friendly neighbours often offer him food and clothes. The one thing that they, however, couldn't figure out about him, was just where he disappears to when the sun goes down. Now the mystery has been solved and when Miss Maxine hears the shuffling above her head, she can rest assured knowing that it's just Taliban coming home from a hard day's work.
Send comments to robert.lalah@gleaner jm.com.