Keisha Shakespeare-Blackmore, Staff Reporter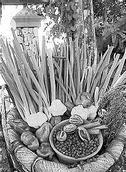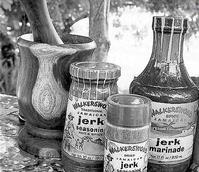 Left: A basket filled with fresh scallion and succulent Scotch bonnet peppers, thyme, pimento and nutmeg. Most of these are used in the making of jerk seasoning as demonstrated by new product development personnel, Sandra Duhaney, at the Walkers-wood Caribbean Food Ltd. epicurean tour on Sunday, July 23. Right: A display of jerk marinade and dried jerk seasoning, plus an example of an old mortar that was used to grind seasonings to make jerk marinade and grind other things such as coffee, coco and roasted corn to make asham. - photos by Ricardo Makyn/Staff Photographer
In the quaint little village of Walkers Wood, St. Ann, lies Caribbean Foods Ltd, producers of the world famous Walkerswood line of jerk and other seasonings. The company that has been gaining popularity through jerk seasonings has added a new feature, a jerk country tour.
The tour is designed to be an informative and fun-filled journey into Jamaica's food heritage, taking visitors from the field to the table. As a part of the tour, starting in September there will be cooking classes that will feature a Jamaican epicurean experience. Participants in the class will first take a trip to Mother Thyme stall in the spice garden on the property. There they will gather raw produce such as seasonal vegetables and spices, then on to the mobile kitchen at the Pimento Porch Clubhouse. Here they will be taught to prepare a Jamaican meal, plus how to do a jerk dish. The classes will conclude with a tasting and all participants will be given a hamper of goodies from Walkerswood. The classes are limited to groups of four up to 15, and bookings should be done at least a day in advance.
The company that has developed over the past 28 years also has a number of products such as:
Jerk seasoning: A spicy and uniquely Jamaican seasoning developed over the centuries. Traditional jerking is a method of cooking highly spiced meat slowly, over a fire-pit of pimento wood. There is a combination of scallion, hot peppers, and aromatic spices in this product.
Jerk barbecue sauce: Made with bananas for sweetness and smooth texture, this barbecue sauce is unique. It has no tomatoes. Using a delicious blend of jerk spices it is just subtle enough to satisfy the entire family. Marinade meat, chicken, pork, lamb or even vegetables in this sauce and brush on a little extra when turning your meat on the grill or in the oven.
Coconut rundown sauce: This robust pour-over sauce is a combination of coconut cream, cooked with selected spices, hot peppers and seasonings.
Escoveitch pickle sauce: This is integral to Jamaican cuisine and is used primarily as a final dressing for fried fish.
West Indian curry paste: A new and easy way to use curry. With this sauce you don't have to waste a minute as it is already cooked and can be added to eggs and dips right out of the bottle.
Scotch bonnet pepper sauce: A hot but distinctly flavoured sauce, a blend of Scotch bonnet (habanero) pepper, scallion, vinegar, thyme, garlic and spices.
Jonkanoo pepper sauce: A festive part of the Caribbean's African heritage comes alive with this carnival of red hot peppers blended with scallions, onions, thyme and garlic.
Firestick pepper sauce: This hot sauce is as the others, but carries enough punch to make you sit up. It has a mellow blend of spices and does not taste like so many other sauces on the market that have an overpowering vinegar flavour.
Seville orange marmalade: A delicious spread made with local oranges. In keeping with tradition it has the bitter-sweet tang produced from medium-cut slivers of orange rind.
Allspice: The dried pimento berry incorporates the flavour and aroma of several spices. It is used in sweets and savouries.
Solomon Gundy: A Jamaican speciality made from a blend of smoked herring, hot peppers and seasonings. This fish paste is traditionally eaten on crackers as an appetiser.
Sorrel chutney: This chutney is an innovation in Jamaica, since sorrel is usually only seen at Christmas time. This condiment is great all year round for roasted meats and poultry, sandwiches or served with cheese.