Avia Ustanny, Outlook Writer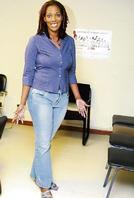 FOR A full decade, Jamaicans have been waking up to the throaty commentary of TV host Dahlia Harris. Today, it is the way she looks that is something new for her audience.
The former Festival Queen (1990), who weighed 120 when she won the crown, is now 55 pounds lighter than her peak weight of 235 pounds.
The statuesque woman is forever fielding questions and comments about her new look.
But, for the 34-year-old, this is nothing new.
"You have to do it (lose weight) for yourself. If you are fat, some will like it, some won't. With losing weight, it's the same thing ­ some will like it and some won't. You are the person you need to satisfy.
"Everything I do is questioned," the actor, the sports broadcaster and public relations consultant adds.
She states, "I am one of those who don't believe that a person's potential is determined by where that person is from. It does not determine who you become."
Dahlia Harris is the daughter of Enid Harris, retired school principal, and Cyril Harris a transport worker long deceased.
With her four siblings, she grew up on St. Johns Road in Spanish Town, St. Catherine, where, for the children, crime and violence were a daily reality.
HER HECTIC schedule, enjoyable as it was, led to weight gain for Dahlia Harris.
She now comments: "People see you and make assumptions that you are not trying. I tried a number of ways to lose weight. I took tablets, supplements, shakes. With my busy schedule, however, I was not taking the shakes on time. They were expensive and I was also getting headaches and stomach problems. I remember I also tried the cabbage soup diet and during a play, I had to run off the stage with diarrhoea. I also lost weight, only to find it coming back."
"For me," says the broadcaster, "it (losing weight) was not about wanting to look hot. At 235 pounds, I was developing back pains."
It was one day while interviewing a doctor about the issue of liposuction that he revealed that he would send clients to a nutritionist before doing the procedure.
This individual was Dr. Joy Callender and Dahlia decided to pay her a visit.
" She (Dr. Callender) prepared a programme around my lifestyle ­ around the foods I loved to eat and around my time schedule. She asked: 'When does your day begin and when does it end'?"
BUSY SCHEDULE
Dahlia was up by 4:45 in the morning to get to her television show.
Then by 9:30 a.m., she is in her offices at the Ministry of Health. She also attends classes at the University of the West Indies where she is currently pursuing a master of philosophy in English.
Twice per week, she reads for sports. When a play is on, her evenings end between 10:00 and 11:00 in the night.
It was this sort of schedule around which her meals had to be planned.
The nutritionist also wanted to know, Dahlia says, "Exactly what it was that I was eating. With this information, she simply reconfigured the amounts. It was, therefore, very cost-effective for me, because I did not need to go to any special stores and I did not have to acquire a taste for new products. In the first month I lost 13 pounds."
She visited the nutritionist for four months.
"I noticed that even when I veered away from the guidelines, the weight did not come back on as easily as in the past. I went to the gym for a two-month period, but when the play started I substituted this and it was fine. The nutritionist recommended physical three times each week for periods of at least half an hour.
"Yes," Dahlia says, "I loved my comfort foods, but now I don't miss the fried stuff. Once a week, I can still have my treats like ice cream. Now, I drink mostly juices and water."
Dahlia's diet includes three staples a day. A banana is a staple, so is a piece of yam.
"The key is not to let yourself get hungry, so I have peanuts in between meals in small amounts," she comments.