The George Proctor saga
published: Tuesday | May 9, 2006
Howard Campbell, Gleaner Writer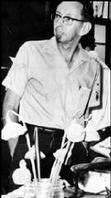 In this 1971 photograph, George Proctor answers questions from visitors at a science forum hosted by the Institute of Jamaica in Kingston. - FILE
LAST WEEK, as George Proctor's lawyer pleaded with Resident Magistrate Judith Pusey to grant him bail, the American botanist sat quietly in the packed Half-Way Tree Court. There was no change in his demeanour when she turned down attorney Thomas Tavares-Finson's appeal.
A small, hunched man, the 86- year-old Proctor showed no emotion as he was led away by police to the Horizon Remand Centre, where he has been incarcerated since April 20 when he was arrested for conspiring to murder his 66-year-old wife.
ANYTHING BUT FLOWERY
Glenford Fellington, his driver, is also charged with plotting to murder Mrs. Proctor. He too was denied bail for the second time in a sensational case that has grabbed the attention of Jamaicans and the international media.
Since being arrested by police at the Norman Manley International Airport, Mr. Tavares-Finson says life has been anything but flowery for Proctor, a world-renowned botanist who is a consultant with the Faculty of Pure and Applied Sciences at the University of the West Indies, Mona campus.
"He's 86 years of age and incarcerated ... I don't think I have to say anything more than that," Mr. Tavares-Finson told The Gleaner.
Operation Kingfish, the Jamaica Constabulary Force unit, says it traced the alleged Proctor/ Fellington murder plot to February. It was supposed to take place between April 20-27 with Fellington being paid $90,000 to murder Mrs. Proctor; Mr. Proctor was arrested while waiting to board a flight to the United States.
George Richardson Proctor is one of the most respected names in Island Flora Taxonomy. He is regarded as one of the 'Four Horsemen' of Caribbean Taxo-nomy - the others being Enrique Liogier, Richard B. Howard and C. Dennis Adams - who has written extensively on the subject for publications including the Encyclopaedia Brittanica.
ACADEMIC ACHIEVEMENTS
Proctor, a twice-married father of six children, was born in Boston but has lived in, and studied, Jamaican flora since 1949. His New England lineage is traced to John Proctor, a victim of the 1692 Salem Witch Hunt in Massa-chusetts.
Prior to working with the UWI, he worked at the Institute of Jamaica for 29 years (1951-90), helping to develop its herbatarium and has studied the flora of over 50 Caribbean islands. His achievements have not gone unnoticed, with 28 plants, including the national tree of the Cayman Islands named for him. In Jamaica, he has been awarded the Musgrave Gold Medal and the Order of Distinction, both in 1976.
Tomorrow, George Proctor and Glenford Fellington will be back in the Half-Way Tree Court where their lawyers will make a third plea for bail.